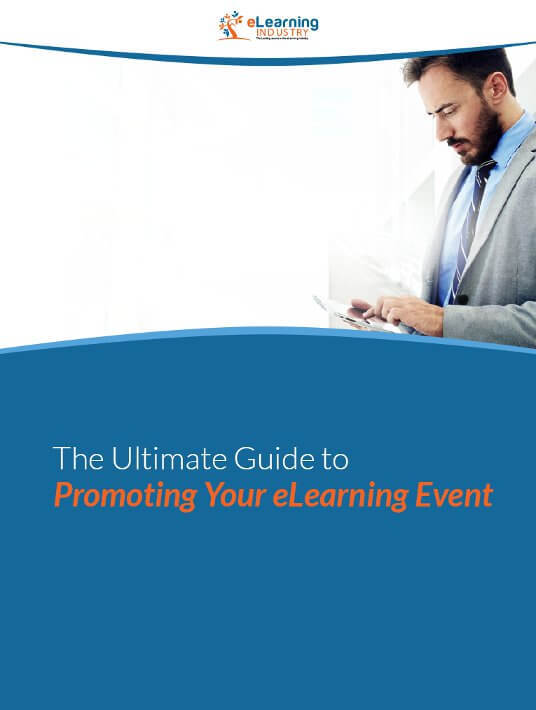 The Ultimate Guide To Promoting Your eLearning Event
eLearning Event Announcements have the potential to raise awareness about your upcoming function, boost attendance, and build your brand image. Make your next eLearning event a success by promoting it online!
Update your details to download a copy of the eBook
Key Chapters
What is an eLearning Event?

Reach out to your target audience and boost attendance to your upcoming eLearning events.


Benefits of an eLearning Event Promotion

Explore the many benefits of promoting an eLearning event.

How to Format an eLearning Event

Basic layout that will help you create succinct and attention-grabbing eLearning event announcements.

How to Market an eLearning Event

Some effective techniques to promote your eLearning event through both digital marketing and social media (Digital Marketing, Social Media).


5 Questions You Need to Ask BEFORE promoting your eLearning Event

Before you publish your eLearning event it's important to ask yourself these questions.

eLearning Event Do's and Don'ts

Some rules that you must bear in mind to ensure that your eLearning event announcement gets published.

How to Drive Traffic to Your Site with eLearning Events

Enhance your web presence and drive even more traffic to your site with an eLearning Event.

Top Reasons to Market an eLearning Event

The main reasons why you should promote your upcoming eLearning event, such as increasing attendance rates.

Tips for Writing an Attention-Grabbing eLearning Event

Tips & tricks that can help you make your announcement memorable, engaging, and attention-grabbing to outshine the others.

How to submit an eLearning Event

A walk through to the complete process.


eLearning Event FAQs

Answers to some of the most pressing questions you might have.
Is promoting an eLearning event really worth the investment? That's the question on the minds of many eLearning event coordinators, especially those who are working on a tight eLearning budget. You want to make the most of your marketing dollar, but you aren't sure if internet tactics are the way to go. The Ultimate Guide To Promoting Your eLearning Event will show you the way!
Everything you need to know on how to promote your eLearning event, from formatting all the way to marketing, as well as important Do's and Don'ts.