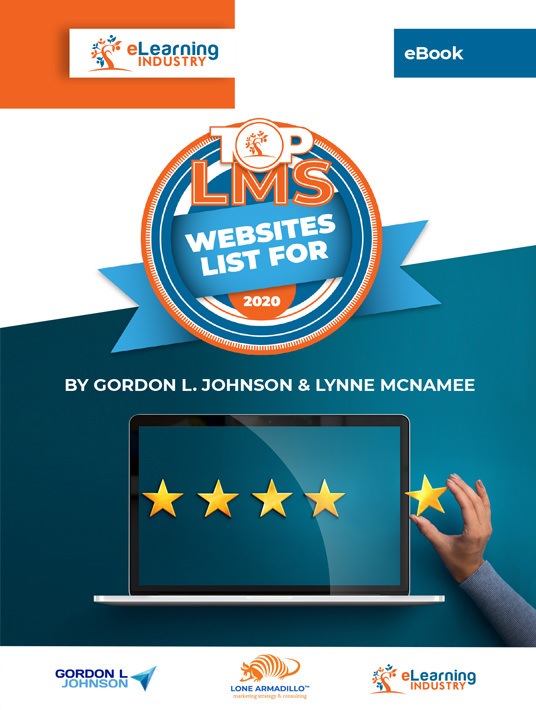 Top LMS Websites For 2020
Download this eBook if you want to learn how you can reinforce your landing pages and drive enormous traffic like the top LMS websites! From website appearance to SEO best practices, we've gathered the top LMS websites that focus on engaging prospects with high-impact content to bring results.
Download a copy of the eBook
Key Chapters
Leaders In Learning Management System… Websites

An intro about what leads an LMS website to the top. It is key to follow all the best practices to attract your ideal LMS buyers. You'll learn why and how you can keep them engaged through all stages of the buyer's journey.

Top 10 Best LMS Websites For SEO: Who Wants To Be On Top (Of Google)?

In this chapter, you'll get valuable insights into SEO. From what SEO is to writing to benefit and serve the reader, you'll learn tips on how to continue to rank highly and be competitive by constantly updating your website. Insights are based on examples.

The LMS Websites That Have The Best Content

The secret to all SEO is to do what's best for the reader. That's the most important tip for your SEO content. In this chapter, you'll learn about sharing valuable content with your prospects. This will establish your thought leadership but it will also build trust.

Top 10 Best LMS Website Designs

You'll learn all about the importance of website design. All LMS vendors want to establish a great first impression. Read on to find out how to achieve LMS website design greatness based on top industry examples.

Top 10 Best LMS Websites

The LMS industry is very competitive. Explore what the top LMS websites do to stand out from your rivals.

About The Authors

Explore details about the authors' background in the eLearning niche.
Few industries are as competitive as the market for Learning Management Systems, Learning Experience Platforms, and other types of training platforms. There are no real leaders and new systems are sprouting up all the time. Messaging, lead generation, branding, and your salespeople are key if you want to be one of the top-notch. The most important part of your marketing strategy is your website. Make it compelling and offer value! It's a win-win for your LMS solution and your ideal buyers.
The LMS market is vast, so you need to be cautious in order to win LMS buyers' hearts right from the start. Website design best practices, combined with effective SEO content, can help bring the conversions you long for. Website design influences the way visitors act when they browse your website. So do your CTAs and your blog posts. Content is one of the most critical aspects of your LMS website, too. Your content marketing strategy will define how easily your website can be found in the search engines by your ideal LMS buyers. In this eBook, you'll get valuable insights into how to write compelling content and CTAs to reach the right buyer personas but also keep them engaged through all stages of the buyer's journey. The selected website examples will help clear out any questions.