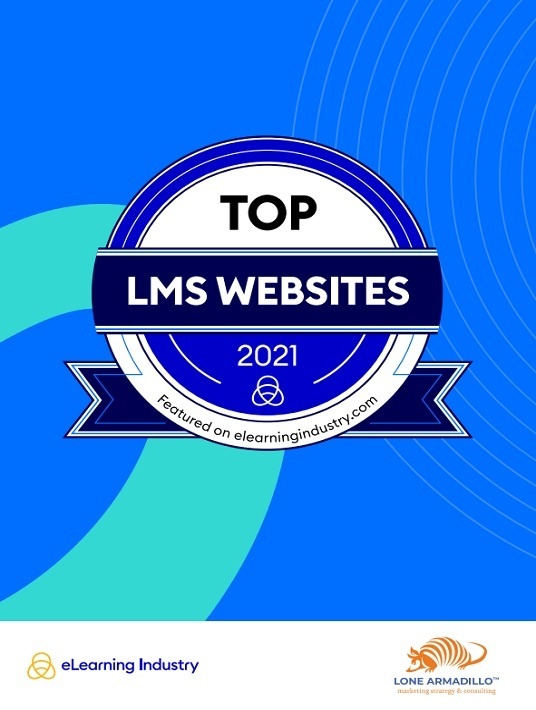 Top LMS Websites For 2021
Your website needs to clearly communicate your brand's value proposition. How do you help whom? Where in the consumer's mind does your solution fit? What problem(s) will it solve? What is its competitive differentiator? Having examined all these elements, we are proud to present the winners of the Top LMS Websites for 2021. This eBook is a collaboration between Lone Armadillo and eLearning Industry.
Download a copy of the eBook
Key Chapters
The Judging

eLearning Industry "2021 Top Marketer" award recipient, Lynne McNamee, a leading marketer in the corporate learning industry, returned this year to evaluate over 300 websites of suppliers in this competitive market.

What Is SEO Or "Search Engine Optimization"?

The goal for marketers is to have the best answer to the query entered into the search bar and to show up at the top of the results.

Winners: Search Engine Optimization

We bring to you the top 20 Learning Technology websites for SEO 2021.

Winners: Overall Impression

In reviewing hundreds of sites, here are the sites being honored with our Top LMS Websites: Overall Impression awards.

Winners: Value Proposition And Resources

A solution's Value Proposition can make or break someone staying on your site to learn more. We are proud to announce the Top LMS Websites in the Value Proposition and Resources category.
In response to the question, "How do you get people to buy your LMS?" In 2022, with a really good website.
This eBook showcases the best of the best LMS websites for 2021, as well as SEO and marketing insights to help you stand out from the virtual crowd. You'll also learn what it takes to make a great first impression and maximize your online presence.