Benefits eLearning Content Providers Can Bring To Soft Skills Online Training
Some organizations avoid hiring eLearning content providers because they think it's out of their price range or that they'll have to give up control. In reality, the rewards far outweigh the risks. Outsourcing brings new POV and insider expertise. Their team can help you cultivate talents within your company and spot hidden gaps. Plus, many eLearning vendors now offer multiple solutions. So, you can rely on them for future projects to shore up your strategy and adapt to industry changes. Such as new tasks, policies, and compliance challenges that call for unique skill sets. Here are just a few perks of choosing an eLearning content provider for your soft skills online training course.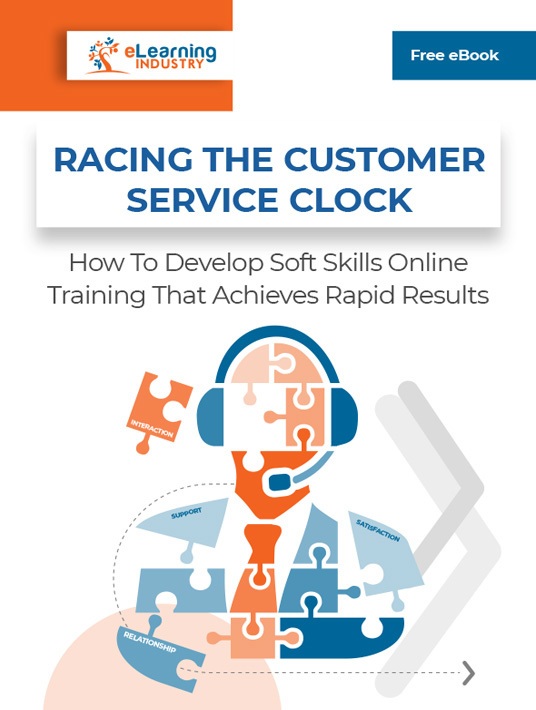 eBook Release
Racing The Customer Service Clock: How To Develop Soft Skills Online Training That Achieves Rapid Results
Discover the benefits of developing soft skills online training and improve employee performance and productivity.
1. Improve Resource Allocation
eLearning content providers not only lighten the burden on your in-house team so that they can handle other tasks. But they also know how to stretch your budget. They've worked on other soft skills online training projects in the past. Which gives them a unique advantage. They're aware of cost-cutting measures and tricks to help you make the most of your assets. For example, repurpose what you already have to eliminate unnecessary spending. Granted, an online resource inventory and a training needs analysis usually incur additional costs when outsourcing. Speak with the eLearning vendor about all the solutions they offer and request estimates. It may be worthwhile to contract their TNA services if you don't know where to take your online training paths. Or simply reevaluate your current approach to make sure it's still relevant and ROI-driven.
2. Benefit From External Expertise
One of the most convincing reasons to hire an eLearning content company for soft skills online training is to tap into their expertise. They don't just offer their time and design services. They provide you with a wealth of knowledge and experience in soft skill development. They specialize in building practical talents that mesh with your organizational goals and objectives. eLearning vendors are also able to make suggestions on how to move forward to address areas of concern quickly. Meet with them beforehand and ask the tough questions. Such as how long they've worked in the industry and how they'll handle your specific requirements.
3. Reduce Software Costs
Outsourcing partners usually have all the software they need to develop content on your behalf. Which reduces your eLearning authoring tool spending and allows you to allocate those funds elsewhere. That said, you should clarify this with the eLearning vendor. Is the software part of the package, or do they need additional resources? Do you still need to invest in an LMS to track online training and update content? Or do they take care of everything for you? Request a list of platforms they commonly use to ensure they're compatible with your software. You don't want to invest in custom content only to discover that it must be re-formatted. Or that you need to purchase a replacement LMS because your current system can't handle the interactivity.
4. Gain A Fresh POV Regarding Online Training Gaps
A third-party eLearning content provider is outside looking in. They aren't emotionally attached to the content. Nor do they have pride in ownership—yet. Thus, they can give you a fresh POV regarding your online training gaps. Another perk is that they're removed from the work environment. Sometimes we grow accustomed to the status quo because we don't know any different. For example, you're used to the lack of communication among your team members. It's been like that since the beginning, and you've simply learned to adapt. An eLearning content provider steps in and highlight areas for improvement. Then helps you address them through targeted online training courses. They might even lend their expertise in terms of the business infrastructure. For instance, offer tips on how to instill a sense of community and facilitate knowledge sharing.
5. Improve Employee Engagement In Online Training
Employees appreciate high-quality content that creates an emotional connection and caters to their needs. Not to mention personal preferences. An outsourcing partner for soft skills online training improves employee engagement because they're pros at information delivery. They know how to convey the takeaways without boring staffers or trivializing the subject matter. The vendor might take it a step further and conduct surveys, focus groups, and pre-assessments to identify commonalities. For instance, to determine whether your staff's interpersonal skills are up to par. Or how they feel about the current online training program. Would employee training participants like to see more simulations and demos? What about social learning elements to boost collaboration?
6. Reduce Stress In The L&D Department
Last, but not least, hiring an eLearning content provider for soft skills online training benefits the mental wellbeing of your L&D department. You're outsourcing the project so that they don't have to add it to their—already long—to-do list. Thus, they can stay focused on other courses, admin tasks, and ongoing upkeep. Without having to give up creative control. Your eLearning team can still reach out to the content provider with feedback and suggestions. For this reason, it's crucial to set guidelines and schedule regular meetings.
Soft skills online training is an involved process. First, you must identify existing gaps and how online training can bridge them. This is followed by budget setting, employee feedback, and ongoing assessment. The list goes on. However, hiring an eLearning content provider can ease the burden on your L&D team and stretch available resources. Employees are more engaged, and your eLearning department is less stressed. It's a win-win. Even your bottom line benefits from soft skills outsourcing.
If you need to learn more about the importance of honing soft skills in the workplace, read our eBook Racing The Customer Service Clock: How To Develop Soft Skills Online Training That Achieves Rapid Results and find out all the benefits of investing in your employees' soft skills training.