Learn How To Scale Your L&D Initiatives
How do L&D teams' fast-growing companies work to scale their learning programs? We looked at organizations that are using 360Learning's Enterprise Plan features and found some valuable insights demonstrating the impact they've had on the way their teams work.
Read on for some product insights that prove putting your people at the center is the most effective way to scale collaborative learning.
1. Involving Learners From The Beginning Increases Engagement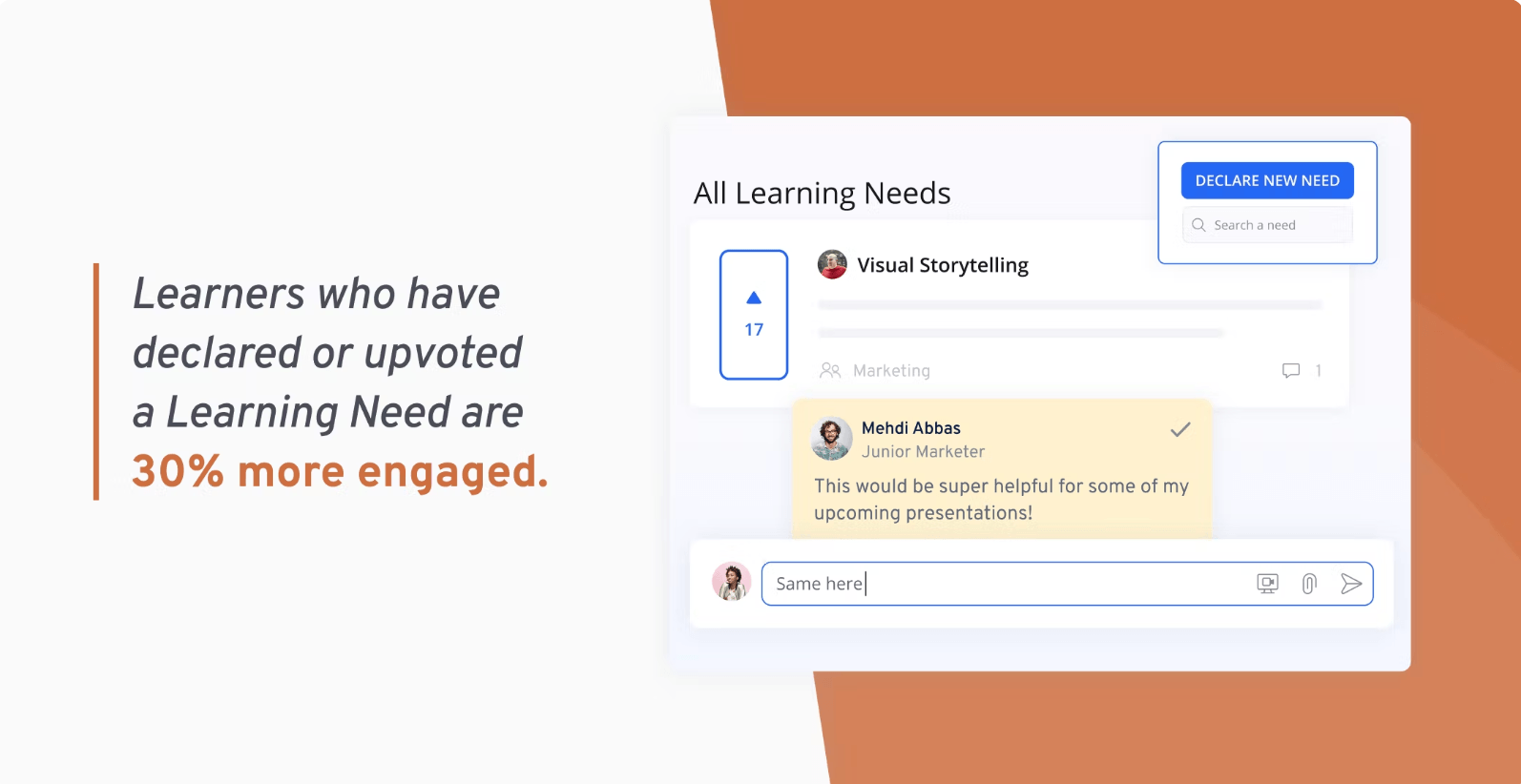 In our recent survey, 70% of respondents said that they should be the ones to identify their own learning needs—as opposed to their managers, L&D teams, or executives. Let that sink in: your employees want to decide what they need to learn to be successful in their careers and at your company.
A lot of L&D teams still rely on inefficient Training Needs Analysis processes or asking managers to voice the learning needs of their teams. This means they aren't in sync with the people who know the needs of the organization best: the learners themselves. Our Learning Needs feature decentralizes this age-old process by allowing anyone to seamlessly submit a Learning Need as soon as it arises.
What happens when employees drive their learning needs? Organizations who have activated the Learning Needs feature have seen astounding effects on their learners:
Learners that have declared a Learning Need come back to the platform 2 times as often and stay for 25% longer.
Compared to learners who have not declared a Learning Need or don't have the opportunity to, users who have declared a need are coming back to the learning platform twice as many days per month and are spending 25% more time learning each time.
Those that have declared or upvoted a Learning Need are 30% more engaged.
Not only are users who interact with the feature learning more often, but they are collaborating 30% more through actions like reacting to courses and engaging in forums.
Try It For Yourself
Activating Learning Needs in your platform will help your team get a better understanding of what employees want to learn, while also prioritizing most useful needs based on upvotes and comments. Your employees will feel valued, driving their engagement and time spent learning.
2. Subject Matter Experts Want To Be A Part Of Learning Program Creation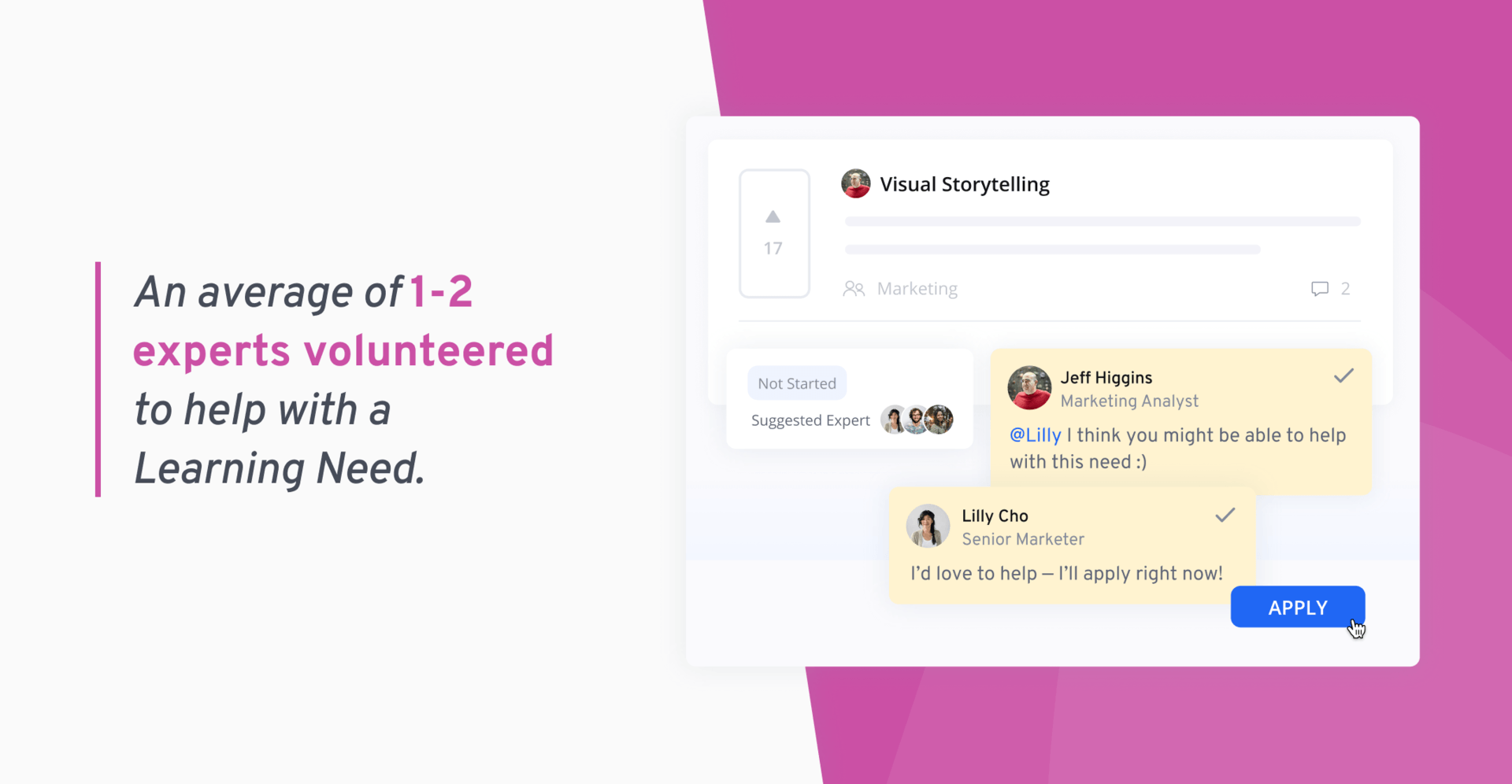 Because L&D teams are not experts in every part of the business, they need help from Subject Matter Experts (SMEs) to create and collaborate on new training projects. Finding the right SMEs can be difficult and time-consuming, further delaying training delivery.
77% of respondents from our recent survey said they have valuable knowledge to share but haven't been asked to. That's a huge number of experts you're potentially missing out on leveraging for learning programs.
Instead of spending time searching for experts, why don't you let them come to you? Once a learner has submitted a Learning Need, experts can choose to volunteer to help with that need in one click. Companies that have given experts the opportunity to volunteer produced surprising results:
At least one expert volunteers to solve a Learning Need on average.
For every Learning Need submitted, there were between one and two experts that volunteered to help with that need on average. Put simply: your experts want to help with learning programs. So why not make it easy for them?
Pro Tip
Let your experts come to you by giving them an easy way to:
See which Learning Needs are declared.
Apply to help answer a Learning Need.
Before you know it, all the time you used to spend tracking down experts will be freed up for you to work on other important initiatives.
3. Using A Project Tool To Launch Learning Programs Will Drastically Reduce L&D Teams' Workload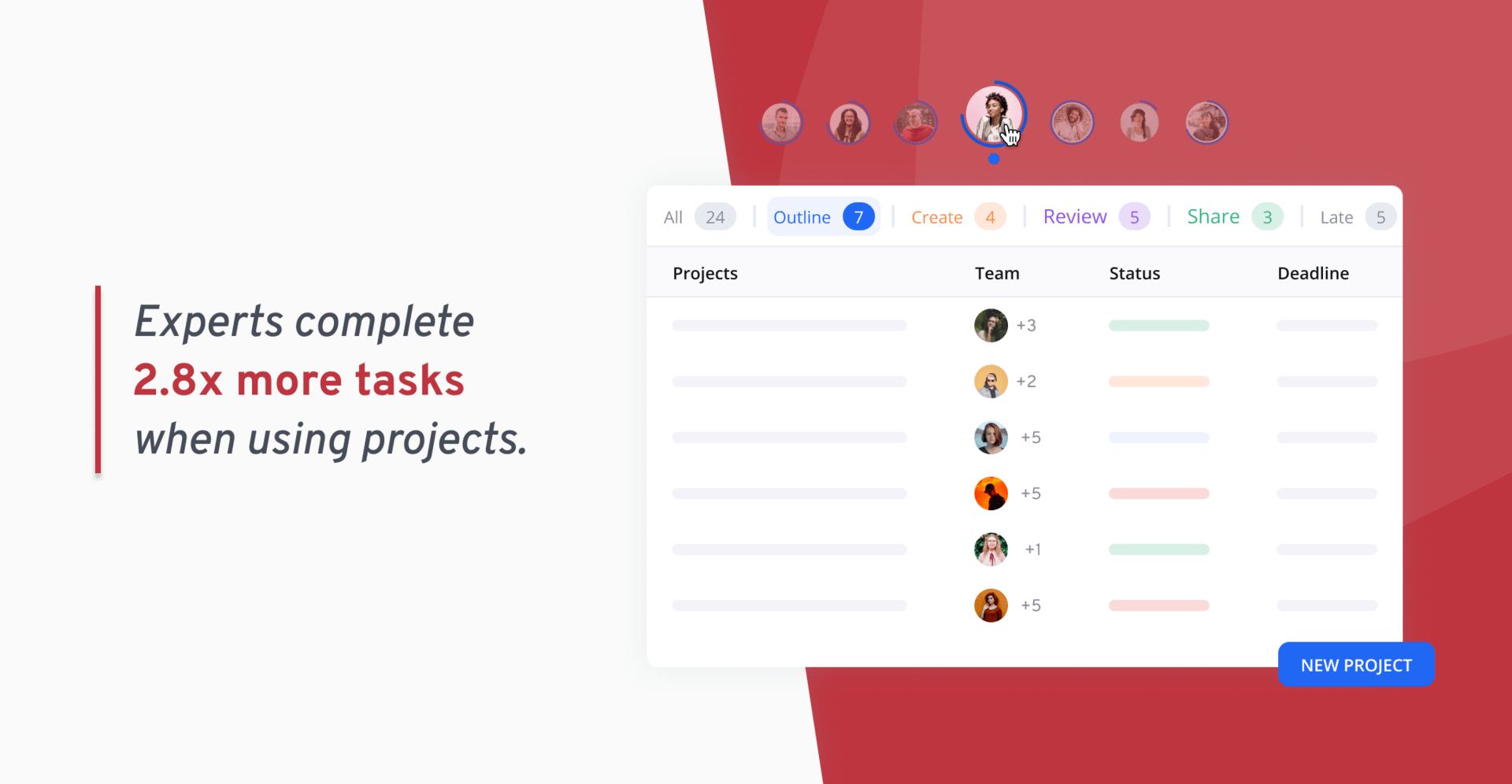 Creating and launching learning programs at scale can feel like an impossible task. L&D teams are challenged with coordinating learning projects, including setting timelines, aligning stakeholders, and ensuring on-time delivery. As training projects multiply, the manual work of gathering content and sending reminders becomes more burdensome.
360Learning's Project Tool makes it easy to align stakeholders, assign tasks and deadlines, and collaborate in one place. Increased visibility and a continuous feedback loop during the content creation process ensures that teams can deliver high-quality learning programs.
Organizations who are using the Project Tool have seen positive changes in the way their teams work:
After shifting to using projects, experts are completing +70% of tasks (up from ~25%).
Let's break it down: L&D teams that are not working through the Project Tool to collaborate with experts are stuck with about 75% of the work (creating content, reviewing content, and facilitating discussion). We analyzed data for teams that switched to the Project Tool to manage new learning programs, and saw that after three months, Subject Matter Experts were owning 70% of the collaborative work. That's a big shift from centralized work done primarily by L&D teams to decentralized, collaborative effort across experts.
Still not convinced? Not only does using the Project Tool decentralize work for L&D, but it also increases engagement and outcomes for experts:
In an average month, 30% of experts using projects publish a course (compared to 6% of those not using projects).
By enabling experts to create, review, and collaborate on learning programs all in one project space, they are able to go from kick-off to launch at record speed. By consolidating resources and communication into one space, experts no longer have to work in different channels like Slack, email, or other project management tools.
Start Planning
Business Plan customers get access to two free projects. You can simply launch a project from a Learning Need or create one from scratch. Learn more here.
You can start scaling your learning programs through empowering your people with Learning Needs, expert identification, and our powerful Project Tool. The Enterprise Plan features are available to try out for free on the 360Learning platform.
360Learning
360Learning is the LMS for collaborative learning. We enable companies to upskill from within by turning their experts into champions for employee, customer, and partner growth.
Originally published at 360learning.com.