Trending Learning Management Systems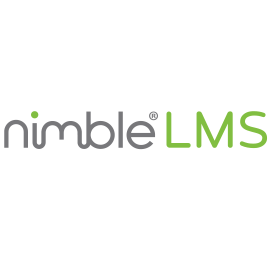 Nimble LMS
Effortlessly manage your elearning programme with our simple Nimble LMS. Whether you've a serious number of learners or just a few, our LMS makes managing your elearning programme easy. Includes a free Nimble Author licence, training & support.
Nimble LMS Reviews
Read Nimble LMS reviews and discover how other eLearning Industry community members have experienced the software.
Usefulness

Usability

Customer Experience

Likelihood to Recommend
Fantastic easy to use platform
What do you like best?
Ease of building and delivering content.
What do you dislike?
Nothing to dislike at the minute.
Nimble is a user-friendly and reliable tool which meets our needs well. Would recommend
Easy to use, friendly support
Straightforward and easy to use both as a user and an administrator
What do you like best?
The customer service and support for the platform is excellent. It is simple and uncomplicated to use from both a user and administrator perspective.
What do you dislike?
The platform could be more interactive for the user - there is potential for gamification principles to be incorporated. It would also be good to be able to personalise the emails and messages that can be sent to users from the administrator.
Incredibly simple yet achieves everything we want and need.
What do you like best?
The LMS and Author tools are super easy to use, very intuitive and beautifully simple and effective. Learners love engaging with the non-distracting simple end user portal.
What do you dislike?
More powerful and flexible measuring/reporting tools would be great! But what is available is adequate.
Unfussy, Easy to use, can be used by novices, professional in appearance to users, great support.
What do you like best?
A very friendly personable company who are always at the end of the phone to provide support. Very supportive of their customers however big or small. The software is simple to use, unfussy with no complicated programming requirements so totally suitable for novices. Personalised branding ensures the professional image to the users. Great Software. Great Company. Great Support.
What do you dislike?
Nothing. Suggestions for optional features are always considered by the developer.
A simple, effective, user friendly platform which allows the quick transfer of learning
What do you like best?
I find Nimble a simple platform to use, content can be created to a high standard, very easily.
What do you dislike?
I would like to think that over time, more features could be added to enhance the product which is not by any means a dislike of the system as whole. I think it is a strong platform.
Nimble is a product that is easy to use and affordable
What do you like best?
The ability to write courses and brand them to our company
Easy to use, well integrated course creation and learner management
Easy to use, fit for purpose and cost effective.
What do you like best?
Easy to use. Can manage and author courses with little training. The system does what we need it to do and isn't overly complicated. We receive great customer support and advice from the Nimble team. The system has enabled us to deliver more e-learning at a reduced cost.
What do you dislike?
It is difficult to find anything to dislike about the system.
Well designed tool helping the user achieve excellent standards.
What do you like best?
The different interactive tools, the options to design in a way that suits my style. The really exceptional feedback and help when getting started which has helped me become a confident user.
What do you dislike?
I would like to be able to copy individual pages from one course to another.
A fantastic tool that has changed our whole L&D strategy and has had a great impact
What do you like best?
Easy to use , Nimble are great to work with , very supportive , they have worked with us on a number of external events and they are always very professional and reliable
It does what it says on the tin. Makes you look brilliant at authoring engaging elearning
What do you like best?
The simplicity of using it as both an author, manager when looking at reports and especially by the user. The whole look and feel fits our business well and entices learners in to want to learn. The reports are there and help us establish additional training needs. Also love the graphics and style of questions. Also the service from nimble is the best I've ever received. After sales are great and they are always there to support you. Always happy to work with you
What do you dislike?
Nothing to dislike for the price it's brilliant and fits our needs perfectly
It is an easy site to navigate and use.
What do you like best?
Most of my eLearning courses follow a specific structure & the site allows me to copy previous courses making it easy for me to just delete previous info and replace with info for a new course. This saves me time as I don't have to build each course from scratch.
What do you dislike?
Maybe there could be more course photos that suited the modules I make however, i'm sure this could be arranged if I really needed it and I can also add my own photos.
Allows simple and fast roll-out of e-learning to staff
What do you like best?
Simple process to view responses, enrolments and completions.
What do you dislike?
Could do with some help pages / reference literature.
User friendly with modern fun interface
What do you like best?
Easy to use
What do you dislike?
Having to reset filters if you use back button.
Easy to use, cost effective solution that is supported by excellent levels of customer service
What do you like best?
Ease of use.
What do you dislike?
Nothing, the product continually evolves and becomes ever more user friendly
Easy to use and works very well with our Induction Programme
What do you like best?
I like Nimble as it is easy to use and I can also keep a track of the results. Nimble is a great tool which helps with our Induction Programme for all our new starters and we are also able to use this to send out any company updates. The support from the Team is great and are always on hand if needed.
An easy to use system, a little clunky in places but does what it needs to
What do you like best?
The fact that training modules in any subject can be created quickly and put out to staff in an instant. Assistance is immediate by phone/email.
What do you dislike?
Lack of colours and general sparkle. Inability to easily reset users when required, have to go through pages and filters to do this. Language function not 100%. Does not upload documents, only links.
Nimble LMS is easy to use, effective and well designed and offers fantastic customer support
What do you like best?
The platform's ease of use and the customer support available - I never feel I'm on my own and my questions are always investigated and answered
A great easy to use that more than meets expectations
What do you like best?
I love the working relationship that we have together and the usability for both authoring, LMS, and user experience.