Using EdTech In Learning And Development: Does Your CLO Know That Employees Αre Creating Their Own Learning Content?
EdTech companies are transforming teaching and training practices in the Learning and Development (L&D) world, from schools to workplaces and social organizations. The benefits of using IT in education include self-paced learning, deeper learning experiences through rich media, simulating real-life environments, and allowing real-time communication between trainers and learners.
What's Happening Now?
Educators are now achieving unprecedented results with cutting-edge technologies that allow learners to reap maximum benefits. The boom in online and social media tools has radically changed the way we use technology. Below is a list of just a few examples of how the shift from web 1.0 to web 2.0 has already affected key areas of our online experience.
The Shift From Heavy, Local (On-Site), Single-User Tools To Lightweight, SaaS-Based, Collaborative Tools
Reading.
We have shifted from passively reading websites to actively contributing via blogs, communities, and social networks.
Storage.
We have shifted from fragile local hard drives to cloud-based, lightweight applications such as Dropbox.
Music.
We have moved from downloading audio files onto single-purpose music devices to using Spotify on phones and peer-to-peer sharing.
Rich media.
We have shifted from using heavy Photoshop-like programs to lightweight, Canva-type tools.
Content.
We have moved from moderated publishing to mass participation to generate content.
Travel.
We have moved from Booking.com to Airbnb.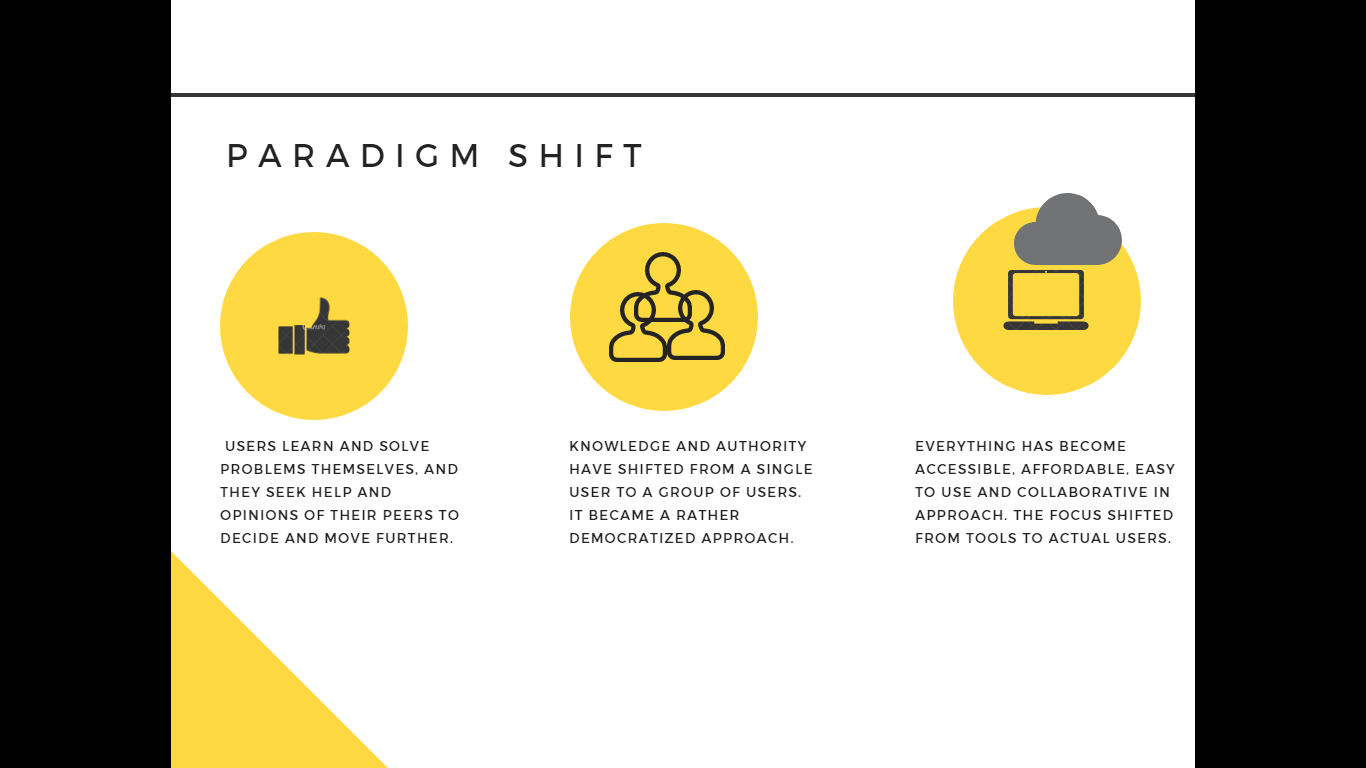 Impact On L&D: A New Focus On Agile Collaboration And Real-Time Contribution
So, how is this shift affecting corporate learning, and how are we embracing it in the corporate learning field? From eLearning to simulations to blended learning to collaborative, social and informal learning, here is a look at what is happening in a few key areas of the education world: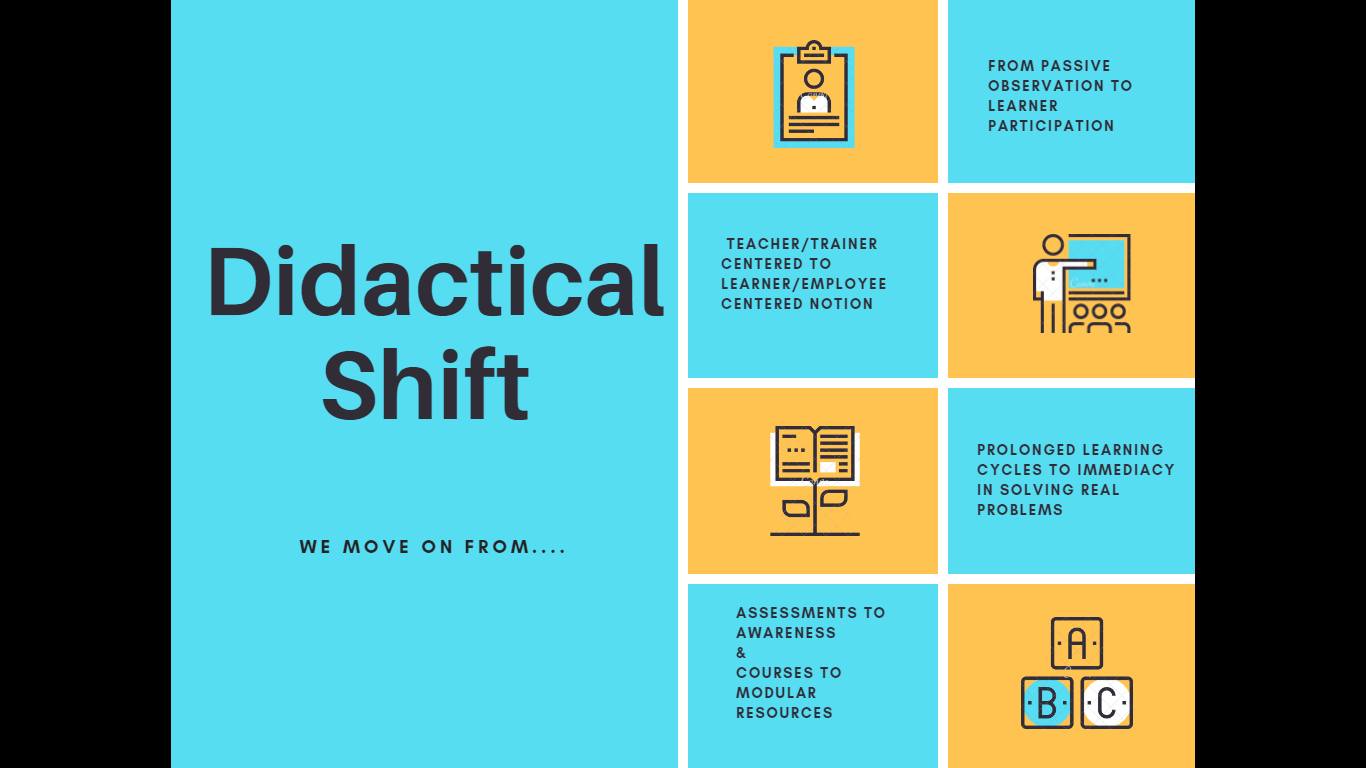 Common Themes: Immediate Solutions And Active Learning
L&D teams have declared independence from the single expert. Power and knowledge now lie in the employees' own hands. The key is to provide easy-to-use tools to tap into this wealth of knowledge. Learning Management Systems (LMSs) and super media-rich authoring tools are a great start. However, today's learning challenges require more immediate solutions that are informal and seamlessly integrated into employees' everyday lives.
Today's learning content must allow employees to experience the working world as it is. In reality, most employees are already learning and living through the peer reviews and knowledge-sharing. It is time to fully embrace this trend, and empower employees with zero learning curve authoring tools to pass on their knowledge and inspiration to future generations.
Closer Alignment With Business Goals
Now that learning content originates directly in real-life experience and not in books, L&D is more closely aligned with business goals than ever before. Of course, moderation is still needed to ensure that content is usable and pedagogically sound. L&D can help with this moderation by offering quick, easy tools for capturing knowledge.
Modern authoring tools must become lighter. The days of heavyweight tools packed with complex feature sets are over. Learners now demand easy-to-use tools, integrating collaborative features familiar to them as social media savvy, democratic web 2.0 users.
Now, learners create their own destiny, solve their own problems, and carve their own career paths. More often than not, they are guided by senior learners/employees who have paved the way. Teachers and trainers have stepped into new roles as mentors and counselors to these employees.
4 Easy Steps To Getting Started
There is no need to completely throw out your existing L&D strategy and switch to a fully user-generated content (UGC) method right away. Instead, we recommend using UGC to enhance your strategy, to begin with. Here are 4 steps to get you started:
Identify sweet spots.
First, look for potential UGC areas and so-called "champions" (employees who will champion the UGC cause and serve as strong allies). Which training needs can employees partially fulfill themselves? These could be aspects of onboarding, technical or sales training, for example. Who are the champions? For example, are there teams that already rely heavily on informal knowledge-sharing?
Integrate employee-generated training content into your other training activities.
For instance, as part of a culture-training initiative, you could include multiple knowledge-sharing opportunities like classroom training, a simple website or an app where learners can share content from their own cultural experiences. The more realistic it is, the more credible the content will be (and thus, the greater the impact it will have on learners). All learners need is a channel for expressing and sharing their experience.
Kickstart a knowledge-sharing culture by giving your employees simple tools like Easygenerator to start with.
If needed, start with a realistic assignment to get employees used to creating learning "nuggets" (compact bundles of learning content that can be quickly absorbed by learners).
Check out learning (authoring) tools.
Those learning authoring tools that are easy to master, cost-effective, and allow quick creation of resources and courses.
The goal is to train your employees to become owners and co-creators of the learning experience, under your expert guidance.
Visit Easygenerator to sign up for your 14-day free trial of Easygenerator today.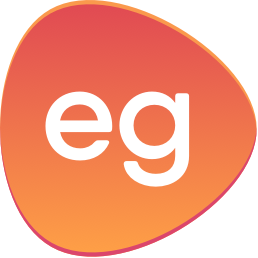 Easygenerator
Easygenerator is an online e-Learning authoring tool for people without an e-Learning background. Create courses and quizzes and host them in our cloud and see learner's results at no extra charge. Uploading to your website or LMS is also possible.