How To Pick The Right Platform For Custom eLearning Content Development
Unfortunately, choosing a new eLearning authoring tool isn't as easy as closing your eyes and pointing at the screen, hoping that chance will land you an amazing eLearning platform that meets all your online training needs. There's a lot of homework, eLearning vendor vetting, and Training Needs Analysis involved in the selection process. But it doesn't have to be a time-consuming and stressful task thanks to our eBook.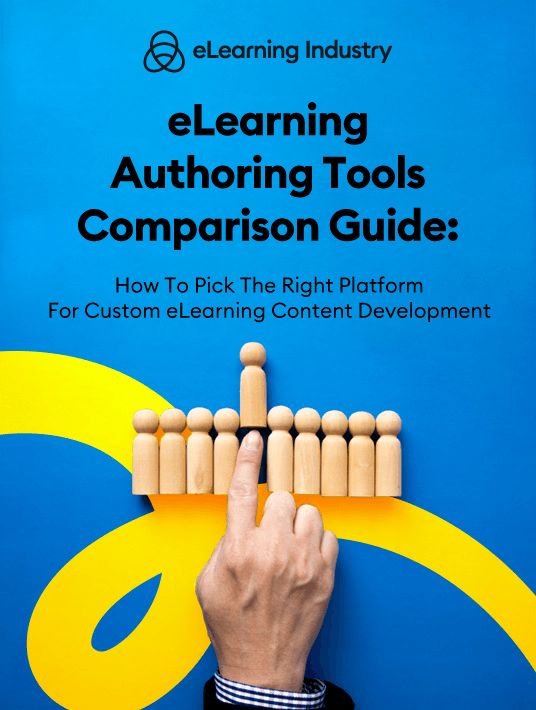 eBook Release
eLearning Authoring Tools Comparison Guide
Explore and discover how you can choose the best platform for custom eLearning content development.
The eBook eLearning Authoring Tools Comparison Guide: How To Pick The Right Platform For Custom eLearning Content Development features all the tips you need to choose the best eLearning authoring tool. From the essential questions to ask before making your final decision to common rapid eLearning authoring misconceptions. Before we delve into the topics covered in our eBook, let's look at some of the mistakes it can help you avoid.
The Importance Of eLearning Authoring Tools Comparison
Weighing all your options prior to making the purchase is essential. You may already have your eye on a few top eLearning authoring tools. However, wise investments require a deep dive into their features, pricing packages, and support services. As well as the eLearning vendor's reputation and standing in the industry. Here are 3 reasons why eLearning authoring tools comparison is a must, and why you should download the eBook to simplify the process:
1. Improve L&D Efficiency
Your team needs a new eLearning authoring tool to create new online training content and improve existing online training resources. They don't have time to master a new eLearning authoring tool with a complex UI and a limited-asset online training library. Comparing the top eLearning authoring tools ensures that you choose a platform that suits their talents, experience level, and workflow. Get their input regarding the features and functions they need in order to carry out daily L&D tasks. Such as quickly revising compliance content to maintain company standards and avoid penalties.
2. Reduce Development Costs
The right eLearning authoring tool saves your organization time and money in terms of eLearning development and content maintenance. You can use built-in eLearning templates to rapidly modify online training resources. And develop new ones that align with the current online training objectives. Another cost-saving benefit of eLearning authoring tools comparison is being able to evaluate all the leading platforms on their own merit. For example, our eBook takes a holistic approach to analyzing eLearning authoring solutions. It involves online reviews, ratings, and online directory listings that give you a comprehensive overview of what each platform has to offer. So that you can choose wisely without having to sign up for every free trial or demo that's available.
3. Boost Employee Engagement And Training Personalization
eLearning authoring tools and LMS go hand-in-hand when it comes to L&D initiatives. But the former is primarily used to develop online training content that makes an impact on your employees. Choosing the wrong eLearning authoring tool—because of ineffective research—will leave your corporate learners underwhelmed. The online training content may not be accessible on mobile devices or it may lack interactivity. It might even completely miss the mark in terms of personalization and preferences.
However, the right eLearning authoring tool improves engagement, motivation, and participation. Your L&D team can create meaningful support online training resources that align with employee online training needs and fill the gaps. For example, use eLearning templates to develop simulations. As well as branching scenarios that impart practical experience. As a result, you retain your top talent and keep them content on-the-job. This eliminates new hire recruiting and online training expenses because you keep your MVPs right where they belong.
Everything You Need To Know In Order To Choose The Top eLearning Authoring Tool
The eBook eLearning Authoring Tools Comparison Guide: How To Pick The Right Platform For Custom eLearning Content Development covers every aspect of the selection process. So that you can find an eLearning authoring tool that aligns with your online training needs and maximizes online training resource allocation. But it doesn't stop at product vetting. You'll also discover how to migrate from your existing eLearning authoring tool and the implementation obstacles to avoid.
Here's a preview of what you'll find in our eBook which is available to download:
Perks Of Using Web-Based eLearning Authoring Tools To Develop Your Next Online Training Course To Improve Accessibility
Features To Look For In SCORM Authoring Tools To Get The Best ROI
Crucial Questions To Ask Before You Invest In A New eLearning Authoring Tool To Ensure You Get The Best Value For Money
Pitfalls Of Implementing New eLearning Course Creation Software And Tips To Avoid Them So That You Get The Most From Your eLearning Authoring Tool Investment
Warning Signs That It May Be Time To Look For A Replacement eLearning Authoring Tool
Essential Types of eLearning Authoring Tools You Should Add To Your Toolbox
Secrets To Use An Online Directory To Choose The Best eLearning Authoring Tool For Your Team
Insider Secrets To Use Online Ratings And Reviews To Find The Best eLearning Authoring Tool
A Step-By-Step Guide To Migrate From Flash To HTML5 eLearning Authoring Tools
Common Misconceptions About Rapid eLearning Authoring Tools And The Truth Behind Them
Pros And Cons Of Rapid eLearning Authoring Tools To Discover The Differences Between Rapid And Open Source eLearning Authoring Tools
An eLearning Authoring Tools Comparison Checklist To Help You Determine Which eLearning Course Creation Software Is A Viable Investment
The eBook eLearning Authoring Tools Comparison Guide: How To Pick The Right Platform For Custom eLearning Content Development gives you an unbiased look at how to choose the best eLearning authoring tool for your team. It dispels the most common myths and shares secrets on how to use online reviews and directories to select the ideal eLearning authoring tool. As well as the warning signs that it's time to replace your current eLearning platform. Save yourself—and your L&D budget—the strain of costly trials and errors. Download our eBook to invest in the right eLearning authoring tool and stretch your available online training resources. It might mean the difference between achieving your online training objectives and losing your top talent.