5 eLearning Industry Guest Articles
How can AI help you enrich educational experiences? Can you use push notifications to fully engage your learning audiences? The articles below address these questions and can help you design memorable eLearning courses, personalize the process, choose the right diverse imagery, and more. In no particular order, here are the top eLI guest author articles published last month.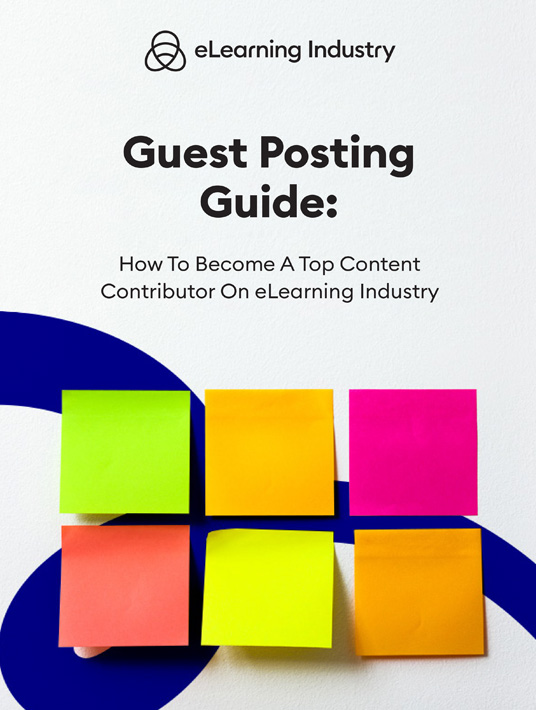 eBook Release
Guest Posting Guide: How To Become A Top Content Contributor On eLearning Industry
Discover what you gain by guest blogging and what are the basics of writing a guest post for eLearning Industry.
Guest Posts You Won't Want To Miss
The future of Instructional Design is in gamified, personalized, and flexible learning with AI. In this eLI guest post, Robin T. Greene-Harper explores how ethical use, collaborative partnerships, gamification, adaptive learning, flexible modalities, and AI enhance education for effective learning.
This article by Kelly Schuster emphasizes the importance of using diverse imagery in educational materials, reflecting the diverse population in which we live and work. It also highlights the key factors to consider before selecting imagery, such as body types and age diversity.
Memorable design can lead to memorable learning. The peak-end rule suggests that the brain focuses on the peaks and the end of the learning experience, making it essential to design training that tells the brain exactly what to keep. Emily Gore shares top design tips to help increase knowledge retention.
When creating online courses, it is possible to lose sight of the learners in an effort to get all the content across. Ayaz Qureshi explains how Learning Experience Design can help you re-center your eLearning efforts by ensuring that the learners' perspective is always kept in mind.
This post discusses push notifications and how they can enhance engagement in eLearning. Kate Parish also offers tips for creating effective alerts, including understanding the audience, crafting attention-grabbing copy, timing notifications strategically, and testing and optimizing messages.
Would You Like To Be Featured In Our Next Guest Author Showcase?
Congratulations to all the guest authors who were in the spotlight this month! We'll be featuring our top guest authors every month in our Guest Post Showcase. If you'd like to be considered for our next list, submit your article to build thought leadership and connect with our eLearning community.
You can also subscribe to our guest author newsletter for tips, hot topics, and exclusive promo opportunities.