Converting Flash To HTML5: Making The Switch
When Steve Jobs penned an open letter in 2010 announcing iOS devices would be incompatible with Flash, he was essentially writing the obituary for Adobe Flash. While it has taken 6 years for us to see the full decline in Flash usage, its well-publicized security issues combined with many browsers dropping Flash support mean it is now truly on the way out.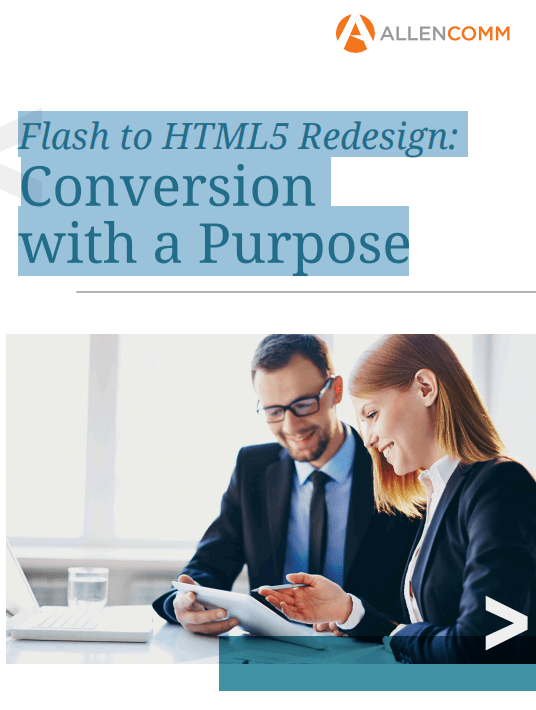 For training groups, the discussion around converting Flash courses to HTML5 has been swirling for years and has recently gained urgency. Companies are faced with the choice to either continue using their mobile-unfriendly courses that are also a security risk, lose access to valuable legacy courses, or redesign courses at great expense.
Thankfully, as you will read in the free eBook Flash To HTML5 Redesign: Conversion With A Purpose, Flash to HTML5 conversion has become a fast and achievable fix.
About The eBook
Let's take a look at the key chapters of Flash To HTML5 Redesign: Conversion With A Purpose:
Why It's Critical To Convert Your Content To HTML5 

Expand Device Compatibility
Unlock Legacy Courses
Improve Security

Additional Benefits Of Moving To HTML5
If those reasons aren't enough to convince you a Flash to HTML5 conversion is necessary, there is a number of other benefits for your company and your learners when you make the change.
AllenComm's Course Conversion Services
Being convinced of the necessity of conversation is only the first step. In AllenComm, they recognize that each organization needs different solutions for a conversion process, based on the authoring tools they use, age and relevancy of content, and learner population.
The AllenComm Conversion Process
AllenComm's end-to-end conversion process maintains the integrity of your Instructional Design in the move to HTML5. You don't have to worry about misfiring media or activities that don't translate.
Going down the path to conversions has many benefits. It will open your content to more people on more devices; help your IT department avoid the security concerns of old browsers and plugins; and refresh your look and feel to align with the web-based content your learners are accustomed to. At AllenComm, they feel the conversion process is a great opportunity to add purpose and design to the mechanical conversion process.
If you want to learn more about successfully converting your Flash courses to HTML5, download Flash To HTML5 Redesign: Conversion With A Purpose today.