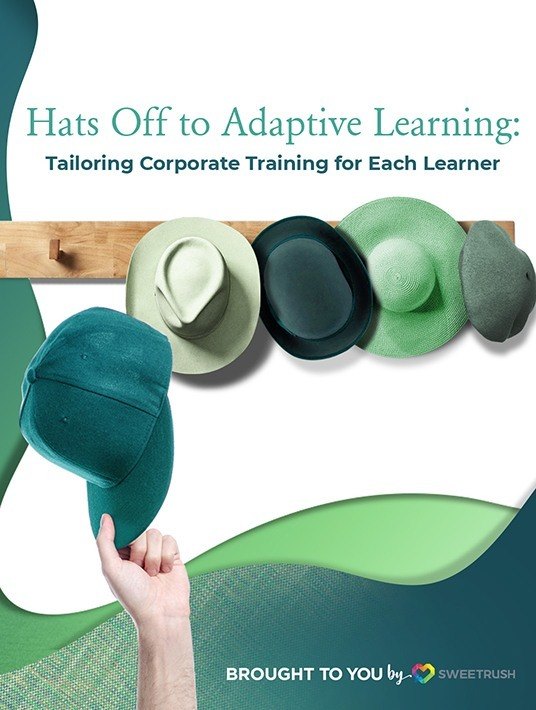 eBook
Hats Off To Adaptive Learning: Tailoring Corporate Training For Each Learner
eBook
Hats Off To Adaptive Learning: Tailoring Corporate Training For Each Learner
by SweetRush / Published: Jan 14 2020
What it's about
Using adaptive learning in corporate training is a powerful approach for achieving highly effective, personalized training and better performance outcomes. Discover how it works, when to use it, and its many benefits—like greater retention and ROI.
Key chapters
What Is Adaptive Learning And How Does It Benefit Your Online Training Program?

A personalized learning experience that considers one's knowledge and needs, adaptive learning is more effective and efficient than traditional learning—delivering higher engagement and retention, more satisfied learners, and less-stressful Instructional Design.

6 Ways You Can Add Adaptive Learning To Your Online Training

You don't need expensive technology or time-consuming processes to create adaptive learning. Learn how to implement these adaptive learning techniques into your training design so learners have a more targeted, interesting, and impactful experience.

What's The Difference Between Adaptive Learning And Personalized Learning?

It's an L&D mystery; are they interchangeable terms or do they have their own definitions? The mystery is solved in Chapter 3.

Busting 6 Myths About Adaptive Learning

Despite its many benefits, stakeholders can be reluctant to adopt adaptive learning due to these myths about why it can't work. Learn the truth and overcome objections to adopting adaptive learning.

Instructional Design Techniques For Adaptive Learning

If you aren't sure when or where adaptive learning is appropriate, or what different techniques are available, check out these 11 training situations showcasing examples of our successful adaptive learning solutions.

Fostering Employee Engagement In (And With) Adaptive Learning

Feeling, thinking, and doing are key components of engagement, and with adaptive learning, you can adjust your engagement strategy to each individual. These approaches increase engagement for a variety of learners.

Evaluating The ROI Of Adaptive Learning

Examine the benefits and costs—including the cost to consume training—of adaptive versus non-adaptive learning. Bonus: Discover how adaptive learning enables easier data gathering and analysis, which supports continuous improvement in L&D.
---
Recommend this read to your friends and #shareknowledge!
Get your copy now
---
Join other professionals like you, who have downloaded the eBook!
Other resources by SweetRush