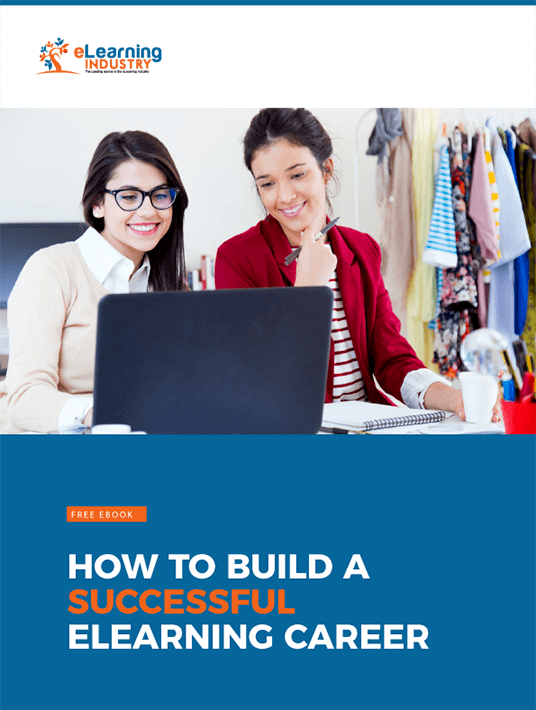 eBook
How To Build A Successful eLearning Career
eBook
How To Build A Successful eLearning Career
by eLearning Industry / Published: Jun 08 2017
What it's about
Are you interested in a career in eLearning but aren't sure where to start? Have you considered transitioning your current eLearning freelancing into something a bit more permanent? Do you get bored working in just one eLearning niche? You have the knowledge, but how do you get the clients? Download our eBook to find out all the answers you seek about how to build a successful eLearning career.
Key chapters
6 TOP TIPS TO START A SUCCESSFUL ELEARNING CAREER

Α simple and actionable roadmap to
jumpstart your eLearning career.

6 TIPS TO SWITCH FROM PART-TIME FREELANCING TO A FULL-TIME ELEARNING CAREER

How to make the switch and start a
successful full-time eLearning career.

8 WAYS TO CONTINUALLY DEVELOP YOUR ELEARNING SKILLS AND KNOWLEDGE

Simple ways to hone your eLearning skills and knowledge to ensure eLearning career success.

5 TIPS TO CHOOSE THE RIGHT ELEARNING CAREER NICHE

Five steps that you can take to determine which eLearning niche will work best for you.

7 TIPS TO MARKET YOUR ELEARNING EXPERTISE

Helpful and actionable tips to get the word out about your eLearning expertise.

5 TIPS TO BUILD YOUR ELEARNING CLIENT BASE

Useful for getting and keeping your eLearning
client base as you develop your eLearning career.

5 BENEFITS OF AN ELEARNING FREELANCING CAREER

Some of the best reasons to jump into the eLearning freelancing field today.

RUNNING A SUCCESSFUL ELEARNING CAREER: 7 GOLDEN RULES ELEARNING PROS SHOULD FOLLOW

Find out what seasoned eLearning experts already know, and start putting them into practice today.
---
Recommend this read to your friends and #shareknowledge!
Get your copy now
---
Join other professionals like you, who have downloaded the eBook!
Other resources by eLearning Industry