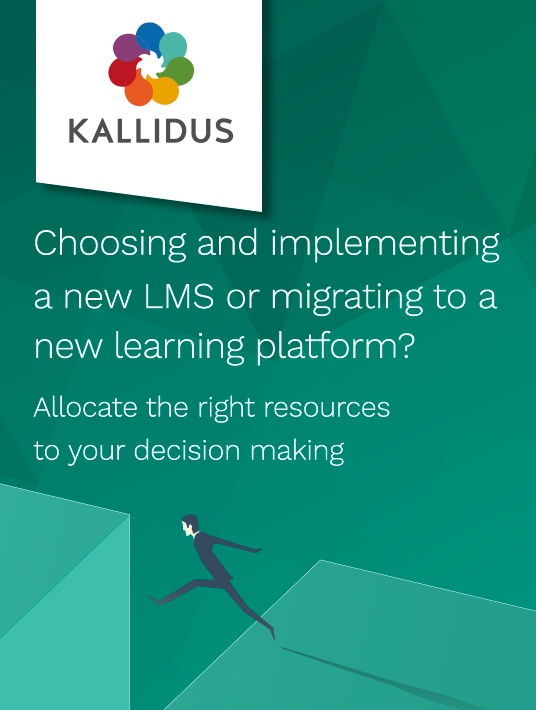 eBook
Choosing And Implementing A New LMS Or Migrating To A New Learning Platform?
eBook
Choosing And Implementing A New LMS Or Migrating To A New Learning Platform?
by Kallidus / Published: Oct 10 2018
What it's about
This eBook will consider the challenges you may face when choosing and implementing an LMS into your organisation, and will look at ways to mitigate risk to ensure its fit to your organisation's culture and the long-term success following its execution.
Key chapters
Introduction

Whether you are implementing a new LMS from scratch or simply migrating to a new learning platform, ensure you allocate the right resources to each stage of the process.

Seeking: honest LMS, willing to take on my fast-growing or large workforce, for long-term success

What to ask.

How will you engage your learners?

Once you have decided on your objectives and how your LMS should support them, consider the channels that you wish to use to engage your users.

Introducing your LMS to your workforce: the challenges

Consider who will take ownership of your LMS: will it be IT, HR, Operations, or L&D?

Back it up

There is one factor that is often underestimated by all teams during the initial conversations of implementation: administration.

Connecting a disparate workforce

Large organisations are more likely to have a disparate workforce, with a range of invested interests, priorities, and skillsets, alongside a breadth of technologies.

Be prepared

Spending time planning and preparing for the launch of your LMS will make a huge difference to the success of your implementation.

Gaining acceptance from your learners

The LMS design should support an easy-to-navigate experience.


Measuring engagement

Ensure that the LMS provider you opt for has powerful reporting functionality.

Take the bulk from your to-do list

For your LMS to streamline your learning team structure, centralise data, and enable you to report on learning success across the business, it requires flexibility on the front end and consistency on the backend.
---
Recommend this read to your friends and #shareknowledge!
Get your copy now
---
Join other professionals like you, who have downloaded the eBook!