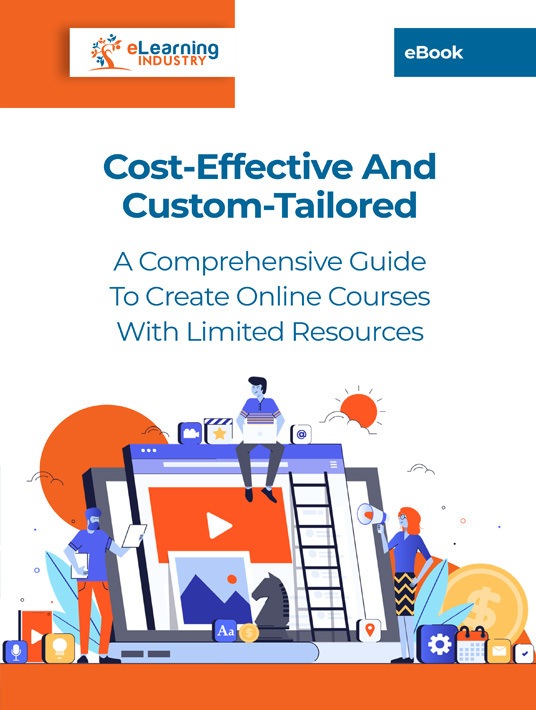 eBook
Cost-Effective And Custom-Tailored: A Comprehensive Guide To Create Online Courses With Limited Resources
eBook
Cost-Effective And Custom-Tailored: A Comprehensive Guide To Create Online Courses With Limited Resources
by eLearning Industry / Published: Jun 30 2020
What it's about
Discover a complete guide to creating effective online courses even on a tight budget. This eBook delves into the design and implementation essentials, from choosing the best eLearning authoring tool to common pitfalls to avoid when creating online training courses.
Key chapters
7 Top Reasons To Create Online Courses From Scratch Versus Purchasing Pre-Built Solutions

Find out why creating online courses from scratch is better than choosing pre-built online training solutions.

7 Secrets To Create Online Courses That Become Instant Best-Sellers

How do you create the kind of online course that will top download listings? Here are 7 insider secrets to create online courses that become big hits and major earners.

6 Tips To Choose An eLearning Authoring Tool To Create eLearning Courses With Minimal Experience

Discover how you can find an eLearning tool that works even with minimal experience for eLearning course creation.

7 Design Principles To Keep In Mind When You Create eLearning Courses For Busy Professionals

This chapter highlights 7 eLearning design principles you should keep in mind when you create online courses for learners pressed for time.

5 Common Errors To Avoid When You Create Online Training For Skill-Based Certifications

Certificates and skill-based testing are both key parts of online training. What mistakes should you avoid in their development?

5 Ways To Create Online Training On A Tight Timeframe

Discover techniques you can use to create online training courses as quickly as possible without compromising quality.

6 Tips To Develop Online Training Courses For Your External Sales Channels Without Breaking The Bank

In today's workplace, remote workers are pretty much standard procedure. Here are 6 top tips to develop online training courses for your external sales partners.

How To Develop Online Training Courses For Your Geographically Dispersed Workforce In 6 Easy Steps

Ensure all your employees receive the same level of training with these 6 tips to create online courses for geographically dispersed teams.

eLearning Course Creation Toolkit: 5 Tips To Choose The Best LMS Before You Create Online Courses

Selecting the best LMS for your course creation endeavors is a good first move. Explore 5 criteria you should consider when choosing the ideal LMS for eLearning course creation.

5 Vital Talents You Need For eLearning Course Creation (And Tips To Hone Them)

Learn about 5 vital skills you need for eLearning course creation.
---
Recommend this read to your friends and #shareknowledge!
Get your copy now
---
Join other professionals like you, who have downloaded the eBook!
Other resources by eLearning Industry