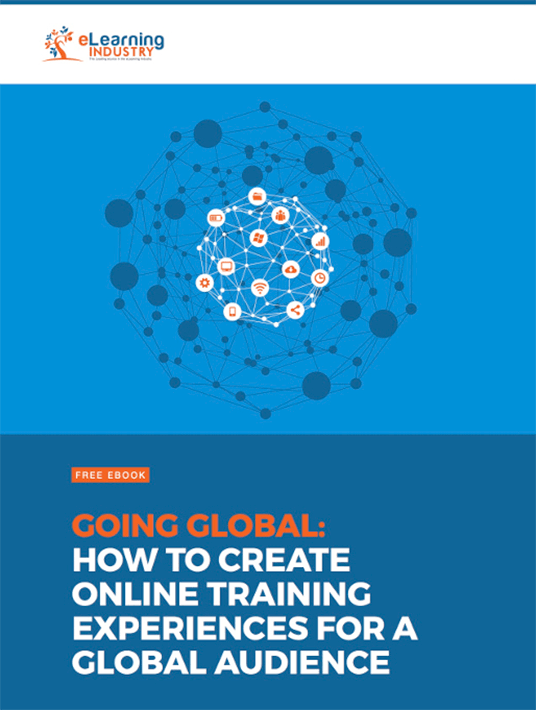 eBook
Going Global: How To Create Online Training Experiences For A Worldwide Audience
eBook
Going Global: How To Create Online Training Experiences For A Worldwide Audience
by eLearning Industry / Published: Feb 08 2018
What it's about
Did you know that corporate eLearning globalization can improve your company's bottom line? Are you ready to expand your online training program on a global scale? Which are the steps to minimize online training globalization risk? Which expenses do you need to factor into your online training globalization budget? Is your LMS up to the task? Or is it time to look for a new tool? Download our eBook to find the answers to these questions and much more...
Key chapters
7 Unexpected Benefits Of Globalizing Online Training

Globalizing online training requires you to adapt its contents to suit the needs of an international audience. Thus, you will need to translate your online training program to various languages and research the backgrounds of your audience.

6 Costs To Consider When Globalizing Corporate eLearning

Training your worldwide workforce is an integral part of realizing your corporate goals. To do so, you need to globalize your corporate eLearning program. It goes without saying that you will incur extra costs.

6 Tips To Hire The Ideal Translators For Global Online Training

Finding the best translators for global online training courses can be daunting.Translation of global online training courses needs to be done with minimal distortion to enhance shared meaning. Otherwise, the key takeaways and the organizational message may get lost in the shuffle.

5 Tips To Mitigate Online Training Globalization Risks

The primary players in every online training project on a global scale still remain content developers, online learners, online instructors, project managers, and system administrators. Every transaction of information between these people is fraught with perils.

7 Ways Corporate eLearning Globalization Improves ROI

Previously, corporate eLearning was viewed as a necessary evil. It was necessary simply because no organization could compete without it. To ensure productivity, companies had to regularly train their employees on emerging business trends.

6 Tips To Build Successful eLearning Localization Teams

Are you a multinational organization that requires L&D resources which can be easily localized for every market you operate in? If so, you need a team who is well versed in cultural nuances and understands the backgrounds of your regional workforce.

A 6-Step Guide For Globalizing Online Training Content

Is your online training content ready to go global? When developing online training material, it is important to plan ahead and create a realistic budget. It's best to design the online training content in such a way that it's easier to adopt localized versions.

7 Tips To Choose The Best LMS For Remote Workforce

Your team is ready to tackle the challenges of L&D on a global scale. Is your LMS up to the task, though? Or is it time to look for a new tool?

7 Tips To Develop Personalized Online Training For A Global Audience

As organizations expand their operations and enter international markets, L&D becomes more complicated. It gets tougher for them to ensure their online training caters to all their worldwide staff members.

Top 6 LMS Reports For Globalized Online Training

Are you utilizing your robust LMS platform to its full potential? Most LMS solutions have in-depth reporting functionality that organizations under-utilize, despite the fact that it's one of the most valuable features an LMS has to offer.
---
Recommend this read to your friends and #shareknowledge!
Get your copy now
---
Join other professionals like you, who have downloaded the eBook!
Other resources by eLearning Industry