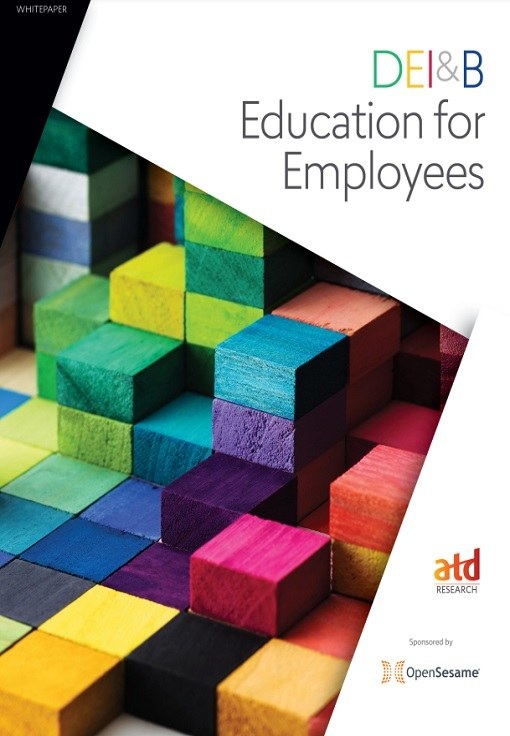 eBook
DEI&B Education For Employees
eBook
DEI&B Education For Employees
by ATD (Association for Talent Development) / Published: May 05 2022
What it's about
ATD surveyed talent development professionals from 392 organizations. This research uses statistical analysis to identify Diversity, Equity, Inclusion, and Belonging education practices and policies linked to better DEI&B outcomes. It also provides key benchmarking data to help readers understand how other organizations are implementing and supporting their DEI&B education initiatives.
Key chapters
Executive Summary

ATD Research surveyed 392 talent development professionals who were able to discuss their organizations' DEI&B education. Of these, 57 percent were managers and above. To better understand DEI&B performance, participants were asked to report how well their organizations were doing on three key DEI&B metrics adapted from the Gender & Diversity KPI Alliance's standards.

Key Findings

Slightly more than half of organizations have formal budgets for DEI&B education. Nearly all organizations that had formal budgets planned to maintain or increase their DEI&B education spending during the next 12 months. Download the eBook to dive into more of the data.

Conclusion And Recommendations

Based on the report findings and interviews with subject matter experts, ATD Research offers recommendations to help DEI&B, talent development, and HR leaders make the most of their DEI&B education. Whether they lead to small changes or sweeping ones, these suggestions can help organizations maximize how education contributes to advancing these important issues.
---
Recommend this read to your friends and #shareknowledge!
Get your copy now
---
Join other professionals like you, who have downloaded the eBook!
Other resources by ATD (Association for Talent Development)