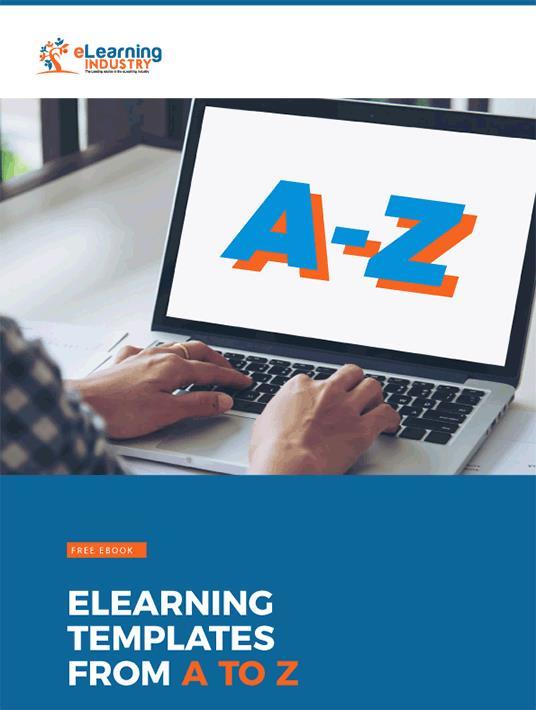 eBook
eLearning Templates From A To Z
eBook
eLearning Templates From A To Z
by eLearning Industry / Published: Sep 08 2017
What it's about
You might have great eLearning content, but is it being overshadowed by outdated eLearning templates? Wondering how to develop reusable eLearning templates from scratch? Do you know the essential elements of an effective eLearning template? Are you making the most out of your existing eLearning templates? Can they really enhance the effectiveness of your eLearning course? Download our eBook to find the answers to these questions and much more...
Key chapters
6 Reasons To Use eLearning Templates

Let's take a closer look at the top 6 benefits of using eLearning templates in your eLearning course design.

6 Tips To Choose The Right eLearning Template

Here are 6 top tips you should consider while choosing the right eLearning template for your next eLearning course.

5 Steps To Create A Reusable eLearning Template From Scratch

Here are 5 steps that you can follow to create effective, reusable eLearning templates.

9 Essential Elements Of An Effective eLearning Template

Let's walk through the 9 essential eLearning template elements that every successful eLearning template should have.

7 Typical Examples Of eLearning Templates

So let's explore 7 typical examples of eLearning templates you may want to create for your eLearning program.

6 Tips To Refresh Outdated eLearning Templates On A Budget

Here are 6 simple tips to upgrade the look of your outdated eLearning templates on a budget.

5 Innovative Ways To Use eLearning Templates

Here are 5 creative ideas for using eLearning templates in your next eLearning project.
---
Recommend this read to your friends and #shareknowledge!
Get your copy now
---
Join other professionals like you, who have downloaded the eBook!
Other resources by eLearning Industry