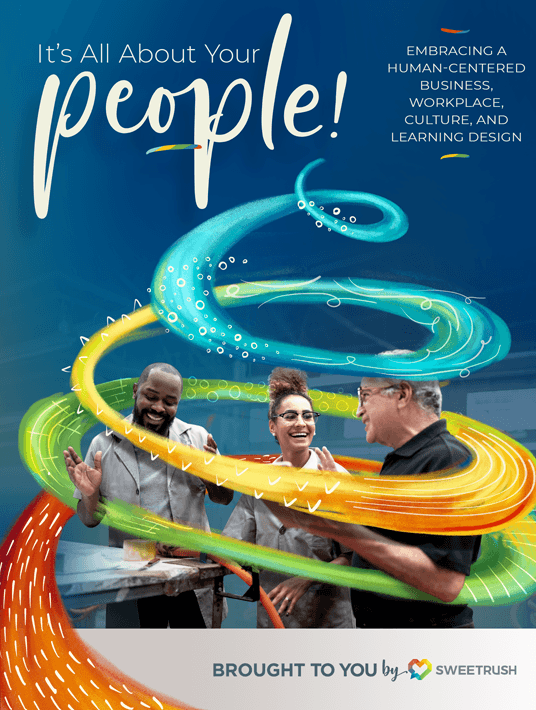 eBook
It's All About Your People! Embracing Human-Centered Business, Workplace Culture, And Learning Design
eBook
It's All About Your People! Embracing Human-Centered Business, Workplace Culture, And Learning Design
by SweetRush / Published: Sep 17 2021
What it's about
Hear that carpe diem call? It's an invitation to reimagine work as a source of resilience—and build a culture of innovation, inclusion, and lifelong learning. Get inspired by these lessons from our 20-year adventure as a human-centered organization!
Key chapters
Foundations

Want to build a human-centered organization that supports happier, healthier, more resilient humans? Here's how providing the means to help people reach their potential does a world of good. Start with a shared mission and a few guiding principles to set your people—and your business—up for long-term resilience.

Culture

Culture is more than a motto; it's what we do and say every day. Learn how to create a space of psychological safety and shared vulnerability to help your teams manage, collaborate, and thrive together.

Diversity, Equity, Inclusion, and Belonging

From recruitment to daily routines, human-centered leaders look for ways to boost representation, inclusion, and belonging in their organizations. Learn how to welcome and include people who live life with all skin colors, bodies, abilities, genders, and relationships—and help diverse teams engage each other with resilience and care.

Learning Design

Growth should feel invigorating, not dreary or draining. Discover how a thorough business and learner needs analysis, along with design thinking methods, helps you develop learning and skilling programs that invigorate your people and get business results.
---
Recommend this read to your friends and #shareknowledge!
Get your copy now
---
Join other professionals like you, who have downloaded the eBook!
Other resources by SweetRush