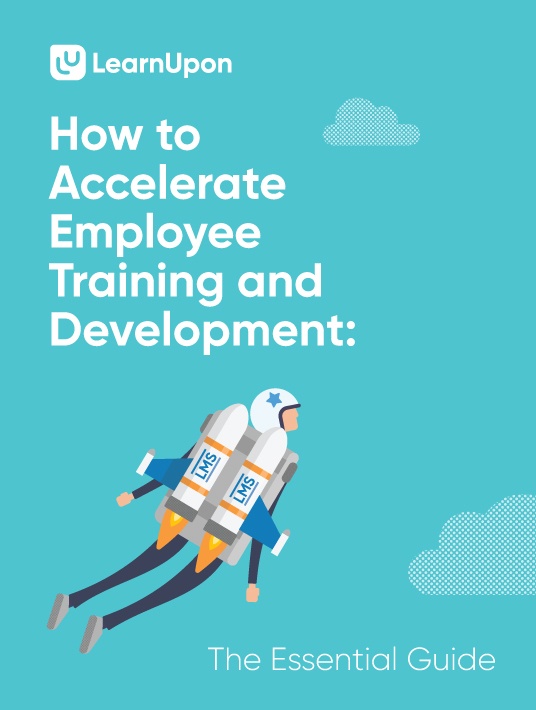 eBook
How To Accelerate Employee Training And Development: The Essential Guide
eBook
How To Accelerate Employee Training And Development: The Essential Guide
by Emma O' Neill and LearnUpon / Published: May 10 2019
What it's about
Corporate training and development has arrived in a new era. Thanks to the rise of new, advanced, user-friendly Learning Management Systems, training can now be managed, delivered and tracked online, in an easy manner. So, what does this mean for your business's employee training? This complete guide explains step-by-step how you can create a successful training strategy for your business with the help of an LMS.
Key chapters
The Importance of Training and Development in the Corporate Environment

Why is employee training and development so important? Discover 8 key areas in which it positively impacts your business.

6 Must-Have Steps to Develop a Successful Employee Training Program

Learning how to create a practical and actionable plan helps you develop a simple, streamlined, and, most importantly, achievable employee training program.

Setting Up SMART Employee Development Goals to Increase Productivity

No matter how good your training is or how prepared you are, if you don't have tangible goals set, it's very difficult for training to have a real impact within your organization. Discover how to set goals the SMART way.

Choosing the Best LMS Software for Corporate Employee Training - A Guide for Training Managers

Cloud or self-hosted? What features do you need? What about customer support? Get help honing your search for an LMS with these useful tips.

7 Best Practices to Automate your Employee Training and Development

The best LMS's enable you to stop micromanaging. Here is a guide to the features and functionality you need to automate repetitive training tasks and save valuable time.

6 Vital LMS Integrations for Employee Training and Development

From HR systems to webinar tools, did you know you can integrate your LMS with other popular tools to make training management more streamlined? Find out the top 6 integrations you should be using.


7 Features your Employee Training Software Should Have for High User Engagement

Your employee training software should do one key thing for your learners - make learning as engaging as possible. Learn the 7 essential LMS features you need to boost learner engagement.

How to Measure and Analyze ROI on your Employee Training Program

When rolling out an employee training program, it's essential to know how to measure and analyze your return on investment. Using the The Kirkpatrick Model, discover how to calculate your training ROI.
---
Recommend this read to your friends and #shareknowledge!
Get your copy now
---
Join other professionals like you, who have downloaded the eBook!
Other resources by Emma O' Neill and LearnUpon