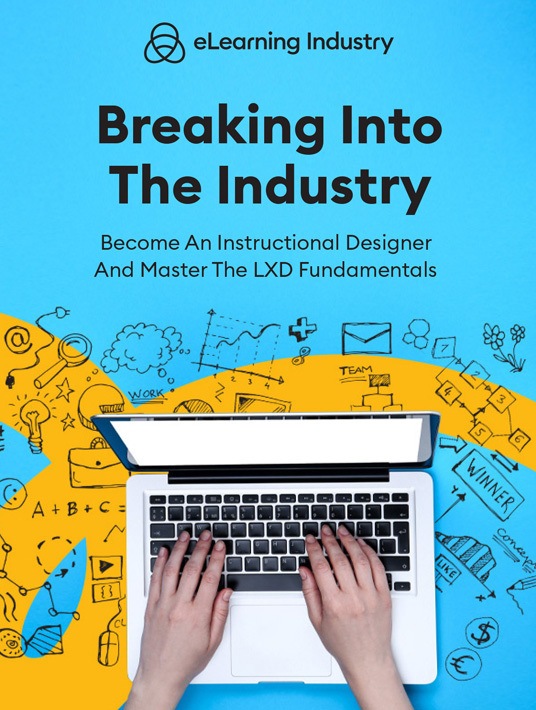 eBook
Breaking Into The Industry: Become An Instructional Designer And Master The LXD Fundamentals
eBook
Breaking Into The Industry: Become An Instructional Designer And Master The LXD Fundamentals
by eLearning Industry / Published: Jan 04 2021
What it's about
Are you ready to embark on your Instructional Designer career path and explore the LXD essentials? If so, this eBook has all the insider info you need to choose the right niche, develop crucial skills, and stay on top of trends. You'll learn about the roles that ID pros fill and instructional design models that are ideal for beginners. There's even a bonus chapter to help you land your first job and break into the instructional design industry ASAP.
Key chapters
7 Amazing Reasons To Become An Instructional Designer

Why should you become an ID pro? Here are 7 unexpected perks you may want to consider.

What Is An Instructional Designer And Which Roles Do They Fill?

What does an Instructional Designer do every day? Let's look at some of the top ID roles and responsibilities.

How Do You Find Your Instructional Design Niche?

Which niche suits your skills and personal interests? Here are some insider tips to choose the right specialization.

5 Questions To Find The Best Authoring Tools For Instructional Designers

Answer these questions to choose the right authoring software for your instructional design projects.

10 Crucial ID Skills To Cultivate Or Reinforce

Successful Instructional Designers need specific talents and competencies to create top notch eLearning experiences. Here are 10 that every ID pro should hone.

12 Terms Every Instructional Design Pro Should Know

It's time to expand your glossary and master these popular instructional design terms.

6 Top Instructional Design Models To Get You Started

There are plenty of instructional design models to choose from, but these 6 are ideal for ID newcomers.

6 Free Resources To Stay On Top Of ID Trends

This chapter features some amazing free resources to help you stay one step ahead of the instructional design trends.

LXD 101: Instructional Design Best Practices For Beginners

How do you design engaging and memorable eLearning experiences. Let's explore some of the LXD fundamentals.

Bonus: How To Land Your First Instructional Design Job

Discover insider secrets to get your first job, from polishing your resume to using ID career boards.
---
Recommend this read to your friends and #shareknowledge!
Get your copy now
---
Join other professionals like you, who have downloaded the eBook!
Other resources by eLearning Industry