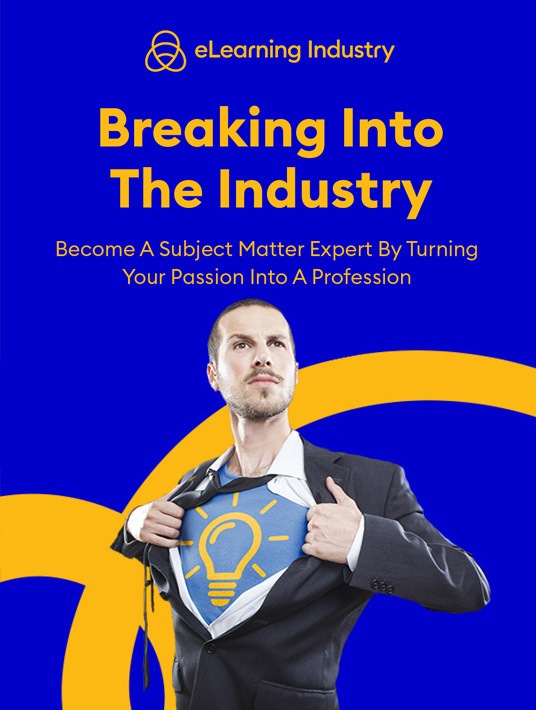 eBook
Breaking Into The Industry: Become A Subject Matter Expert By Turning Your Passion Into A Profession
eBook
Breaking Into The Industry: Become A Subject Matter Expert By Turning Your Passion Into A Profession
by eLearning Industry / Published: Dec 10 2020
What it's about
An eLearning SME gets the rare opportunity to turn their passion, insider know-how, and life experience into a rewarding career. But which steps do you need to take to become a Subject Matter Expert? How do you find your niche and develop all the right skills? Our eBook walks you through the entire process, from establishing yourself as an industry expert to landing your first job. If you want to take the startup route, it also has tips to launch your own Subject Matter Expert consultancy business and streamline collaboration with clients.
Key chapters
Becoming A Subject Matter Expert: 5 Tips To Find Your Niche

Which eLearning topics suit your skills and knowledge base? This chapter helps you find the best SME niche for your talents.

What Are The Essential SME Skills And Qualifications?

What sets a successful SME apart from the rest? Let's look at crucial skills and qualifications every Subject Matter Expert should cultivate.

Subject Matter Expert Roles And Responsibilities In The L&D Industry

What is the SME job description? Learn about the key roles and responsibilities Subject Matter Experts perform in the L&D sector.

5 Steps To Establish Yourself As A Successful Subject Matter Expert

This chapter explores all the steps you need to take to become an eLearning Subject Matter Expert.

How To Find Subject Matter Expert Jobs In Various Industries

It's time to land your first job and build real world experience. But how do you find SME positions in your industry of-choice?

6 Tips To Launch Your SME Consultancy Business Based On Your Topic Expertise

Many new SMEs choose to launch their own startup instead of applying for jobs. Here are some insider secrets for Subject Matter Expert entrepreneurs.

5 Secrets To Streamline Collaboration With Clients

Working with clients shouldn't be stressful. This chapter shows you how to improve collaboration and open the lines of communication.

Why Should Subject Matter Experts Focus On Guest Blogging?

Should you guest post to build authority? Here are the top reasons why every SME should consider guest blogging.

Bonus: Getting Recognition In Your Field: 8 Ways Top Subject Market Experts Promote Their Services

Subject Matter Experts need to promote their niche know-how. This bonus section has 8 top tips to help you market your SME services.
---
Recommend this read to your friends and #shareknowledge!
Get your copy now
---
Join other professionals like you, who have downloaded the eBook!
Other resources by eLearning Industry