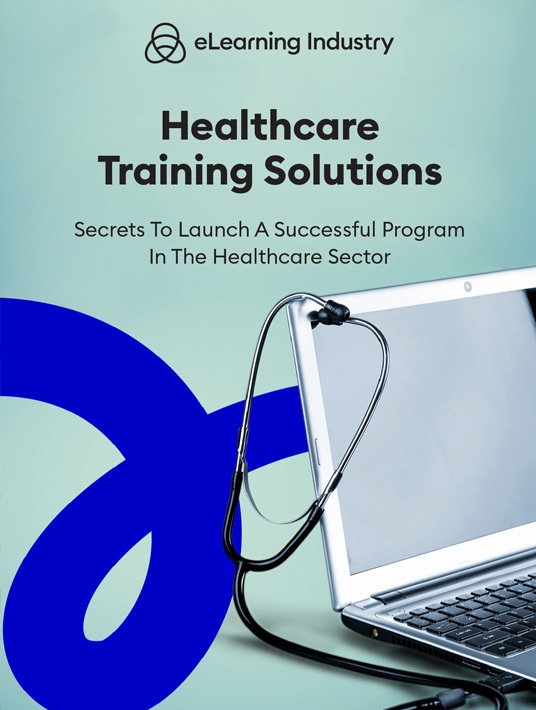 eBook
Healthcare Training Solutions: Secrets To Launch A Successful Program In The Healthcare Sector
eBook
Healthcare Training Solutions: Secrets To Launch A Successful Program In The Healthcare Sector
by eLearning Industry Inc. / Published: Jan 31 2021
What it's about
Healthcare professionals must possess niche skills and expertise. But are you giving them all the support they need to achieve their full potential and provide a high quality of care? This healthcare training solutions eBook covers all the essentials, from unexpected benefits to crucial topics. We even highlight resources that can help you find the right outsourcing partner for your L&D program.
Key chapters
Why Are Healthcare Training Solutions Important And Who Can Leverage Them?

This section discusses the why behind healthcare training and how it can benefit certain members of your team.

What Are The Benefits Of Healthcare Training Courses?

What are the perks of launching healthcare training solutions? Let's look at some of the advantages a solid L&D program can bring to your organization.

What Is Healthcare Compliance Training? 5 Ways It Helps You Solve Critical Organizational Pain Points

Successful healthcare training courses fill crucial gaps. This chapter highlights 5 specific challenges it can help you overcome.

Which Topics Should You Cover In Your Healthcare Training?

Training keeps staffers safe and builds integral soft skills. Which topics should you include in your course design?

Is Your Organization Ready To Launch Healthcare L&D Certifications?

Certifications boost accountability and employee motivation. But are you ready to implement them in your L&D program?

Should You Hire Healthcare Training Services Or Handle It In-House?

The debate rages on: is it more cost effective to develop training internally or hire an outsourcing partner?

Bonus: 8 Tips To Kick-Start Your Search For The Right Healthcare Training Solutions Provider

How do you find the best eLearning content provider for your budget? These insider secrets help you qualify vendors in record time.
---
Recommend this read to your friends and #shareknowledge!
Get your copy now
---
Join other professionals like you, who have downloaded the eBook!
Other resources by eLearning Industry Inc.