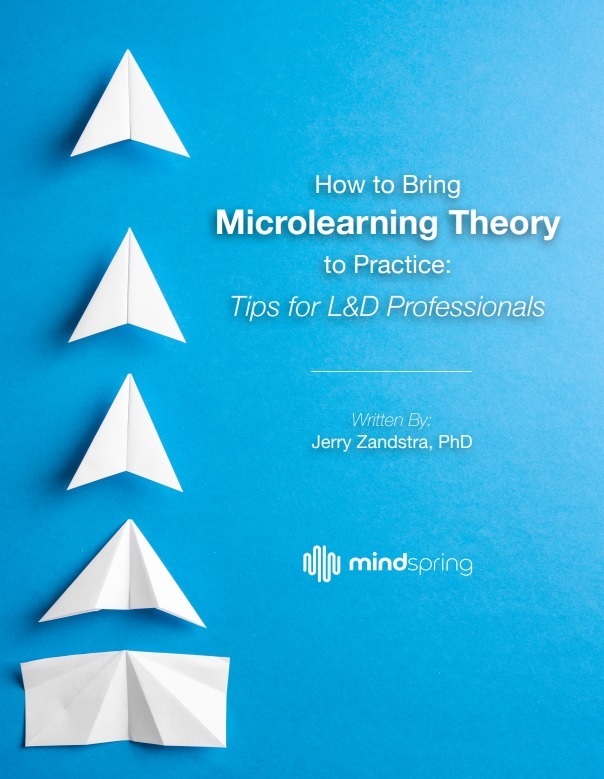 eBook
How To Bring Microlearning Theory To Practice: Tips For L&D Professionals
eBook
How To Bring Microlearning Theory To Practice: Tips For L&D Professionals
by MindSpring (formerly known as Inno-Versity) / Published: Dec 08 2020
What it's about
Microlearning has been around, in some sense, since humans first taught one another something new. While the concept isn't new, its delivery and accessibility are changing the landscape of learning. In this eBook, discover enticing microlearning tips for L&D professionals.
Key chapters
What Is Microlearning? Critical Characteristics And Benefits That Can't Go Unnoticed

Microlearning has been around, in some sense, since humans first taught one another something new. Most of us had the childhood experience of having someone older and more skilled or knowledgeable standing next to us while we tried to learn a new skill and then saying, "Not like that—like this," and then proceeded to tell us just what we needed to know, at just the right moment.

Why A Microcontent Strategy Works And How Brain Science Supports This Learning Method

The case is often made that the attention span of the average person is declining and that this societal change is a key driver behind the growing popularity of microlearning. Some studies support this perspective, and some don't. Perhaps attention span is the wrong focus.

When To Use Microlearning: Microlearning Examples And Learning Modalities To Leverage Your Learning

Microlearning isn't a silver bullet. Although a popular method and a strong instructional strategy, it's not always the best solution. We'll begin by exploring some circumstances in which microlearning may be the ideal option. We'll then consider some equally important situations in which microlearning may not be the best choice.

A Practical Microlearning How-To Guide To Elevate Your Training And Facilitate Knowledge Retention

In the spirit of microlearning, we offer these tips, tricks, and techniques in short, digestible pieces. This list of microlearning qualities is more of a reference guide than a systematic overview of the topic. Several items in this list are true for all well-designed learning assets but are especially true for microlearning. Others are specific to the microlearning methodology. All aim is to encourage learners to develop an appetite for learning.

Microlearning Case Study: How A National Research Organization Uses Microlearning Content In Training

Updating years-old eLearning content to be more engaging isn't a new challenge. Yet when a grant-funded organization that supports law-enforcement agencies approached Inno-Versity, they did bring several unique challenges.

Case Study: How A Global Manufacturing Leader Has Made Microlearning The Core Of Its Learning Program

Spending a lot of money on eLearning content that was rarely accessed and never implemented is costly in terms of both budget and morale. Unfortunately, this is too often the story Inno-Versity hears from its' clients.

Retail Training Case Study: How A Retail Giant Put Microlearning Into Practice

It's a common theme—lack of engagement and adoption. When a global retail company came to Inno-Versity, they were looking for a partner to help increase the participation and implementation of their new team operational principles. These included topics such as creating project charters, meeting principles, continuous improvement tools, and more.

An In-Depth Interview On How Learning Leaders Use Microlearning Every Day

Microlearning is no fad. It's one of the most powerful tools in the toolbox of learning leaders who want to provide continuous opportunities for team members to develop their skills. It enables workers to learn new things every day, putting learning assets at their fingertips when they need them and, in the best scenarios, where they need them. For those seeking to do rapid course design, microlearning is invaluable.
---
Recommend this read to your friends and #shareknowledge!
Get your copy now
---
Join other professionals like you, who have downloaded the eBook!
Other resources by MindSpring (formerly known as Inno-Versity)