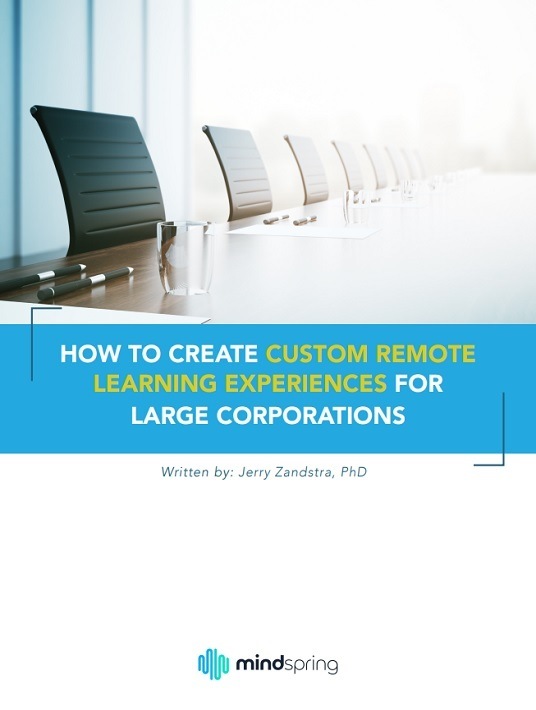 eBook
How To Create Custom Remote Learning Experiences For Large Corporations
eBook
How To Create Custom Remote Learning Experiences For Large Corporations
by MindSpring (formerly known as Inno-Versity) / Published: Oct 13 2020
What it's about
Corporate learning delivery systems are changing. Executives and learning professionals have much to consider, but the first and foremost is how to deliver quality training in the shifting sands among onsite, completely remote, and blended learning.
Key chapters
Corporate Learning: The Shift To Custom Remote Training Delivery In Unprecedented Times

Large corporations have had years to weigh in-person training against digitally delivered learning. In the past, things moved slowly and carefully, as is typical in large organizations with complex budgeting processes. Learning teams formed committees that met for many months and sometimes years. Chief human resources officers (CHROs) and other executives, including the CFOs, reviewed findings and considered their options. Speed was often not the strongest driving force.

Utilizing Curriculum Mapping To Develop A Successful Customized Remote Learning Strategy

When starting a project, L&D teams often begin with a pile of content of everything ever taught or trained in. But starting with content stalls a remote learning strategy before it ever gets off the ground. Curriculum mapping effectively organizes and prioritizes program goals, learning objectives, existing content, source materials, and potential assessment strategies. It produces a living, breathing document customized to the needs of a situation, which may take the form of a spreadsheet, table, chart, or even a mind map for brainstorming. The end result here isn't prescribed deliverables but a focused organization of content topics and their objectives.

Custom Remote Learning Or Off-The-Shelf? A Classic Dilemma For L&D Managers

How do you know when it's time to invest in custom eLearning? Maybe the question is better asked in reverse: When does it not make sense to invest in custom digital learning? Companies usually don't make the investment in custom digital learning for material that's low-priority, generic, or focused mostly on compliance and checking a box that training has been completed. Smaller companies can accomplish this type of training with classroom presentations, often using slide decks from two decades ago followed by a written test. The test gets filed, the team member is deemed compliant, and the company can say it provided the training as mandated. Larger companies or those with a geographically diverse workforce can easily and inexpensively obtain courses on topics like blood-borne pathogens or lockout/tagout, which can be delivered digitally, with records being stored in an LMS.

12 Rapid Custom Training Development Tips For Your Remote Workforce

No doubt, the learning needs your workforce faces today are like none you've seen before. Custom learning has never begged for a more rapid development, yet many companies face preparation paralysis. We've identified 12 best practices that will navigate you and your team through the uncharted waters of rapidly developing custom training for your suddenly remote workforce.

How Can Custom Interactive Training Content Improve Remote Training Effectiveness?

You know the feeling all too well—trudging through eLearning that's as riveting as moss growing on bricks. But you also know what it's like to be launched into a fully immersive module, with elaborate environments that mirror real life and invite you to maneuver by making decisions within sophisticated scenarios. Maybe the learning even involves gamification, allowing you to compete against others and track progress with a leaderboard. What creates the fundamental gap between these two ends of the eLearning spectrum?

What Top Business Leaders Are Saying About Custom Remote Learning Solutions

COVID-19 is a paradigmatic shift. Its true scope is an overused word but fits here: global. It's difficult to look at any industry segment or organizational size and find anything untouched. From large corporations to small shops, city-sized institutions of higher education to preschools, trade associations to nonprofits, every organization's model for what they've done in the past is on the move.

3 Examples Of Successful Curriculum Mapping

Effective curriculum mapping can be customized for any client's needs. It doesn't need to be formulaic and can be the cornerstone of effective Instructional Design. Curriculum mapping strategically organizes and prioritizes program goals, learning objectives, and existing source material. Because each of these categories lands on a spectrum of undeveloped to long-established, the process depends on the quantity and quality of what content and source material already exists. . Three very different clients exemplify how Inno-Versity adapted curriculum mapping to produce the desired results.

How To Accelerate A Rapid Custom eLearning Solution For Superb Training Results

When urgency pressures organizations to create learning initiatives with rapid development, quality remains paramount. Inno-Versity rapidly delivered effective learning packages to a cyber security company and an educator-development association—one needing courses from scratch and the other calling for custom content conversion.
---
Recommend this read to your friends and #shareknowledge!
Get your copy now
---
Join other professionals like you, who have downloaded the eBook!
Other resources by MindSpring (formerly known as Inno-Versity)