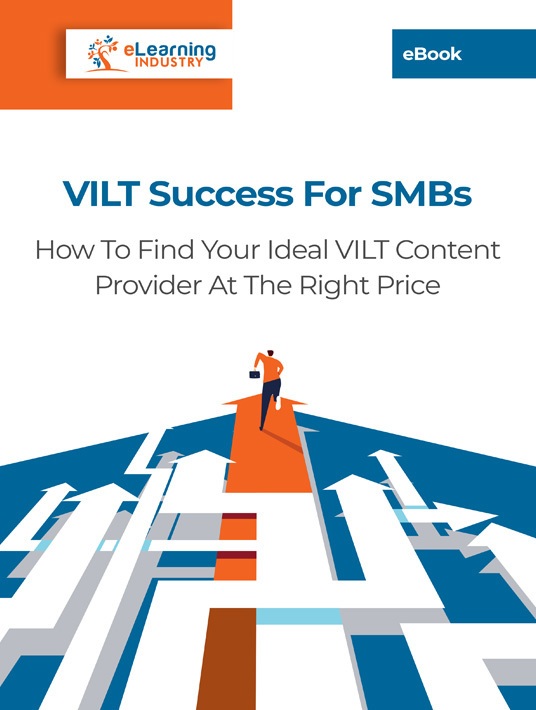 eBook
VILT Success For SMBs: How To Find Your Ideal VILT Content Provider At The Right Price
eBook
VILT Success For SMBs: How To Find Your Ideal VILT Content Provider At The Right Price
by eLearning Industry / Published: Jun 16 2020
What it's about
SMBs don't have to rule out VILT solutions just because they don't have the means and budget of larger organizations. This eBook offers you all the inside information you need to launch a VILT strategy on a tight budget as well as tips on searching for, evaluating, and choosing the ideal VILT content provider for your company.
Key chapters
7 VILT Budget Tips And Tricks To Stretch Available Resources

Find out tips to create a realistic budget for your VILT strategy.

8 Items To Add To Your Virtual Instructor-Led Training Solutions Wish List

Which must-have features should you include in your VILT program? Read on to find out.

8 Steps To Choose A VILT Content Provider For SMBs

This article features all the necessary steps to choose the right VILT content provider for your small business.

8 Free Resources To Find The Perfect VILT Solutions In Your Price Range

Check out a list of resources you can use to find the right VILT content provider for you.

8 VILT Online Directory Tips To Maximize Your Investment

We are providing 8 insider secrets so that you can make the most of VILT online directories to improve online training ROI.

Read Between The Lines: Tips To Use VILT Reviews And Ratings For Vendor Vetting

Here are 7 top tips to use Virtual Instructor-Led Training reviews and ratings for rapid vendor vetting.

8 Things To Look For In The VILT Vendor's Portfolio And Landing Page

Discover what you should look for on a VILT company's website to make sure you're making a good investment.

5 Software Must-Haves For Your VILT Toolbox (Even If You Outsource)

Is your VILT toolbox looking a bit sparse? This article features 5 software must-haves for custom content development, even if you outsource.

8 Reasons To Outsource Virtual Instructor-Led Training Versus Developing In-House

Here are 8 reasons to hire a virtual training provider who specializes in your sector.

Training Tie-Breaker: 7 Tips To Hire A VILT Vendor For Sample Projects

These 7 tips can help you hire the best computer-based training vendors for sample projects to mitigate outsourcing risks.

8 Tips To Draft A VILT RFP That Gets Results

Follow these tips to submit a complete request for proposal and save time and money.

7 Techniques To Evaluate VILT Proposals And Make The Best Buying Decision

Implement these 7 tips and techniques to evaluate VILT proposals and make the best buying decision for your SMB.

8 Secrets To Ensure Smooth Contract Negotiations With Your VILT Vendor

Here are 8 insider secrets to ensure smooth contract negotiations with your virtual classroom outsourcing partner so that everyone benefits from the experience.
---
Recommend this read to your friends and #shareknowledge!
Get your copy now
---
Join other professionals like you, who have downloaded the eBook!
Other resources by eLearning Industry