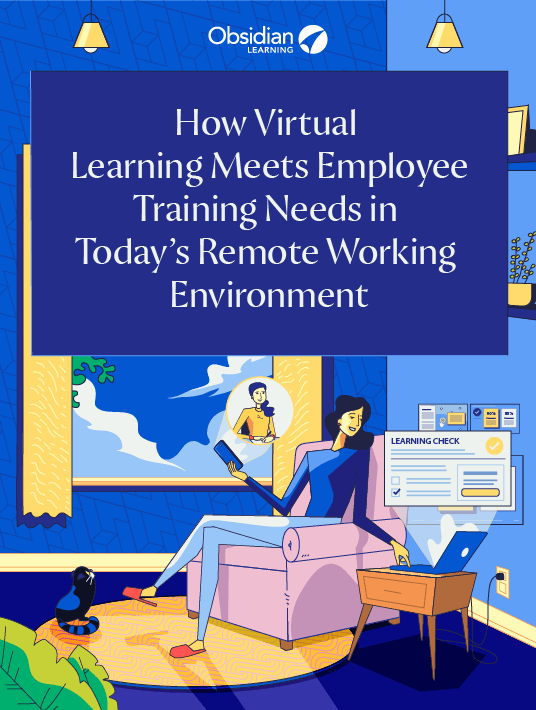 eBook
How Virtual Learning Meets Employee Training Needs In Today's Remote Working Environment
eBook
How Virtual Learning Meets Employee Training Needs In Today's Remote Working Environment
by Obsidian Learning / Published: Jul 15 2020
What it's about
This eBook provides guidelines on how best to employ virtual learning to meet the needs of your learners and your organization. The case studies, useful tips, and concrete strategies will help you create fit-for-purpose, high-impact virtual training.
Key chapters
Why Virtual Learning Is More Than Just VILT: Myths And Truths

There are some common misconceptions about virtual learning, though—what it is and what it isn't, when it can and cannot be effective—that are worth unpacking.

4 Virtual Learning Needs To Consider In A Remote Working Environment

In uncertain times, it's crucial for employees to feel supported, valued, and encouraged so they can focus their energies on the smooth running of the organization. In concrete terms, what does that look like?

How To Transform Your Remote Workforce Into A Virtual Learning Community

Thanks to the COVID-19 pandemic, in-person community building has hit a roadblock, and the future appears to be leading in the direction of increased virtual interaction.

5 Implicit Signs That Your Virtual Classroom Is Set Up To Fail

In this chapter, we're going to examine the warning signs that point toward an organization underprepared to make the leap to virtual training.

8 Innovative Virtual Learning Design Tips To Engage Your Remote Teams

We will talk about two aspects of design that are equally important if you want to provide virtual learning that really gets results—Instructional Design and visual design.

How To Train Employees In A Virtual Learning Environment

The scale and impact of COVID-19 may never be fully appreciated, but from our view, as L&D professionals, one thing is clear: for some time to come there will be limited in-person training, coaching and mentoring, and more online, virtual, digital training, coaching, and mentoring.

5 Virtual Learning Advantages That Will Boost Your Training ROI

While the focus is often on the disadvantages associated with virtual learning (impersonal, boring, expensive), there are some inherent advantages to virtual learning that can boost your organization's bottom line.

5 Proven Virtual Learning Solutions Every Great Leader Should Know

It's time now to look at virtual learning more strategically, to get beyond muddy messaging, poor design (or no design), and technical issues, and use proven virtual learning solutions to meet your employee training needs and give your company an edge.
---
Recommend this read to your friends and #shareknowledge!
Get your copy now
---
Join other professionals like you, who have downloaded the eBook!
Other resources by Obsidian Learning