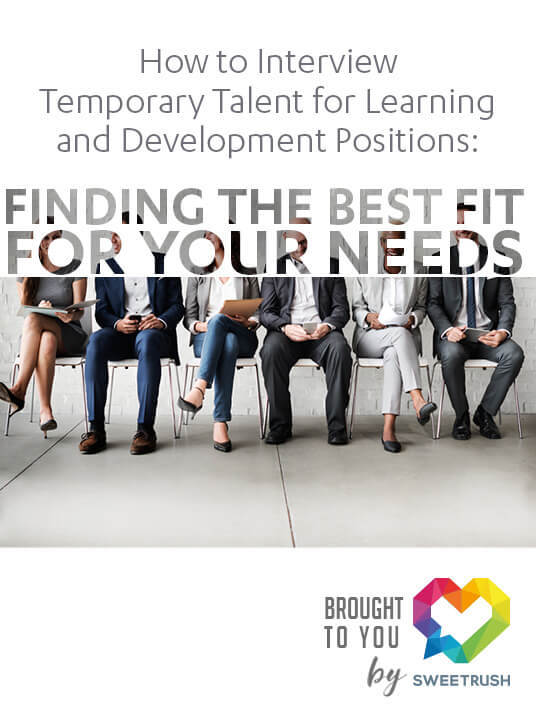 eBook
How To Interview Temporary Talent For Learning And Development Positions: Finding The Best Fit For Your Needs
eBook
How To Interview Temporary Talent For Learning And Development Positions: Finding The Best Fit For Your Needs
by SweetRush Inc. / Published: Jul 17 2017
What it's about
An important part of talent management, contingent labor can fill in for personal leave, handle rush projects, and address the need for capabilities you don't have. You need someone who can hit the ground running, which makes the interview the most critical part of the hiring and assessment process: you need to ask the right questions so you'll make the right choice. The SweetRush Talent Solutions team is excited to share its experience-based best practices for the interview process in this eBook.
Key chapters
Getting Started

We'll explain when you should use temporary talent and describe the ideal candidate profile for a temporary role.

Chapter 1: What to Expect from the Interview Process

How much time can you expect to invest in this process? We'll help you set realistic expectations, and we'll offer tips on being responsive and conducting interviews.

Chapter 2: Tips for Interviewing Temporary Talent

Is your candidate ready to add value from Day One? Learn why project management skills are important, what the ideal temperament is for temporary work, and how to recognize the "sweet spot" in a candidate's career.

Chapter 3: The Learning and Development Skills Assessment

We'll show you why a killer job description—and having the right expectations—will attract the right candidates for your position.

Chapter 4: Cultural Fit and How to Interview for It

Cultural fit—so critical for rapidly integrating a new player into your team! We'll help you assess whether your candidate will thrive in your organization.

The Interview Checklist

A comprehensive list of questions to help you assess each candidate for temporary work, the learning and development role, and cultural fit!
---
Recommend this read to your friends and #shareknowledge!
Get your copy now
---
Join other professionals like you, who have downloaded the eBook!
Other resources by SweetRush Inc.