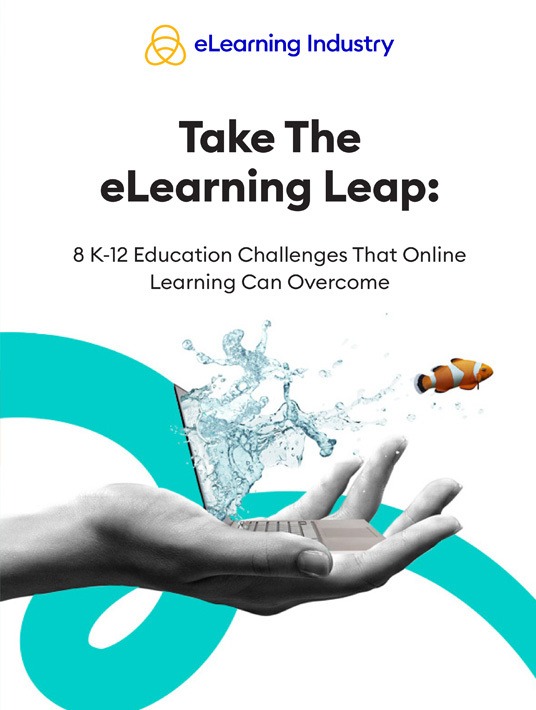 eBook
Take The eLearning Leap: 8 K-12 Education Challenges That Online Learning Can Overcome
eBook
Take The eLearning Leap: 8 K-12 Education Challenges That Online Learning Can Overcome
by eLearning Industry Inc. / Published: Apr 09 2021
What it's about
The global pandemic isn't the only catalyst for change. In fact, educators and school board administrators must contend with a variety of issues to make an impact on the lives of learners. This K-12 education challenges guide shows you how to launch an eLearning strategy to overcome obstacles and provide an individualized experience for every student.
Key chapters
Challenge #1: Limited Resources

Discover how eLearning stretches available resources and helps you deploy cost effective student development solutions.

Challenge #2: Safety Risks (COVID Crisis)

How can online learning mitigate safety risks? Find out how making the move can help you handle the global pandemic.

Challenge #3: Low K-12 Student Engagement

Students must be fully engaged to get the most from the experience. Learn tips to boost online participation.

Challenge #4: Lack Of Personalization

Successful learning experiences are individualized, and this chapter shows you how to personalize the process with eLearning resources.

Challenge #5: Time Crunch

Pressed for time? Learn how tech tools and a solid strategy can help you beat the clock.

Challenge #6: Low Parent Involvement

One of the biggest hurdles is getting parents involved? Discover how eLearning makes education a team effort.

Challenge #7: Large Class Sizes

You may not be able to shrink class sizes, but online learning can help educators enact meaningful change on a larger scale.

Challenge #8: Emotional Factors

From stress to hectic home environments, learn how to deal with students' emotional needs with the right eLearning approach.

7 Steps To Implement eLearning In K-12 Education

We walk you through the steps to launch your own online learning strategy for K-12 education.

Bonus: 5 Tips To Choose The Best eLearning Tech For K-12 Education

This final chapter offers tips to choose the right software for your online learners to foster remote collaboration.
---
Recommend this read to your friends and #shareknowledge!
Get your copy now
---
Join other professionals like you, who have downloaded the eBook!
Other resources by eLearning Industry Inc.