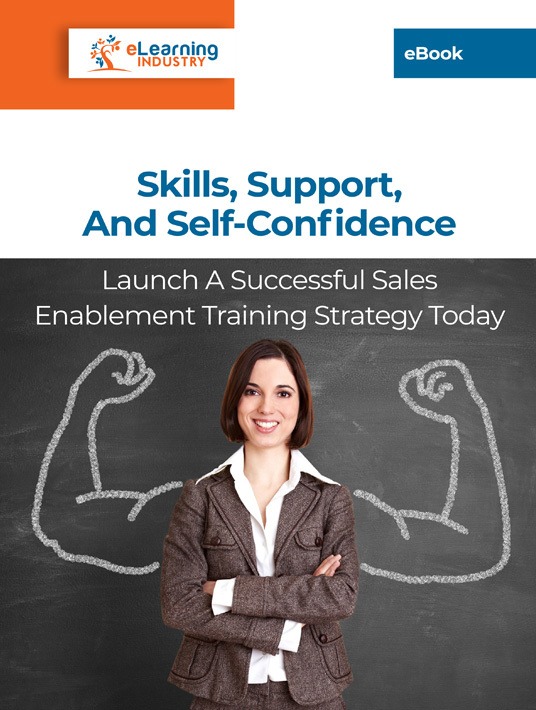 eBook
Skills, Support, And Self-Confidence: Launch A Successful Sales Enablement Training Strategy Today
eBook
Skills, Support, And Self-Confidence: Launch A Successful Sales Enablement Training Strategy Today
by eLearning Industry / Published: Jun 19 2020
What it's about
Launching a sales enablement training strategy will give your team the expertise and confidence they need to skyrocket their performance and offer unparalleled Customer Experience. This eBook has everything you need, as it features tips, tricks, and techniques to implement sales enablement training right away. Dive into its secrets to learn how to keep your employees and customers satisfied.
Key chapters
What Is Sales Enablement Training? 7 Sales Enablement Plan Essentials

What do you need to support your sales team and foster relevant skills? This chapter explores the essentials you should incorporate into your sales enablement plan.

8 Profitable Perks Of Implementing Sales Enablement Training

The success of your strategy hinges on your employees' participation and real-world application. This is why you need to invest in a sales enablement plan.

7 Sales Enablement Training Activities For Performance Management Support

Here are 7 sales enablement training activities to add to your online training library to provide your team with all the support tools they need to bridge performance gaps.

7 Tips To Launch Sales Enablement Training For External Partners

How do you deploy successful sales operations training when your partners have diverse backgrounds and experience levels? This article features 7 tips and tricks to launch a sales enablement training strategy for a dispersed team.

8 JIT Training Sales Enablement Tools That Enhance CX

Discover 8 JIT training sales enablement tools to facilitate an experience your customers won't forget soon.

8 Steps To Develop A Winning Sales Enablement Strategy For SMBs

One might think that small businesses should focus on growing their customer base instead of launching a comprehensive sales enablement program. In this chapter, find out how SMBs can launch an effective sales enablement strategy and achieve their business goals.

8 Tips To Find An Outsourcing Partner For Sales Enablement Training

How do you choose an eLearning content provider that's just right for your sales enablement training program? Read on to find out.

7 Sales Enablement Training Mistakes That Hurt Your Bottom Line

Check out 7 top sales enablement training blunders and tips to avoid them altogether.

7 Quick Tips To Identify Gaps In Your Current Sales Enablement Strategy

In this chapter, discover 7 tips that will help you spot hidden gaps in your plan to enrich the online training experience and retain top talent.

7 Tips To Develop An Accurate Sales Enablement Outsourcing Budget

Every cent must be accounted for and justified when you're trying to make a successful sales enablement business case. Here are 7 top tips to develop a realistic sales enablement outsourcing budget and stretch available resources.
---
Recommend this read to your friends and #shareknowledge!
Get your copy now
---
Join other professionals like you, who have downloaded the eBook!
Other resources by eLearning Industry