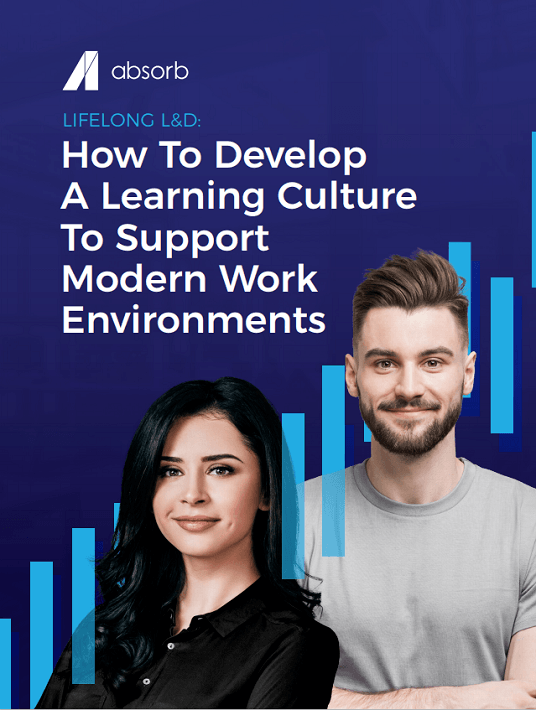 eBook
Lifelong L&D: How To Develop A Learning Culture To Support Modern Work Environments
eBook
Lifelong L&D: How To Develop A Learning Culture To Support Modern Work Environments
by Absorb LMS / Published: May 11 2021
What it's about
When it comes to creating a lasting learning culture and fostering lifelong L&D, an LMS will help you deliver. Discover strategic tips, evolving L&D trends and best practices to support your modern learners through your learning management system.
Key chapters
Unlock Elevated Learning Experiences with Employee Training Software

The age of remote work is in full swing. Leadership must deploy effective online learning through employee training software to elevate the employee experience and build a strong culture.

Reinvent New Hire Onboarding: Learning's First Impression

With the rising demand for remote work flexibility, organizations should lean on their LMS for onboarding excellence. Discover how this powerful tool can deliver accelerated onboarding for the modern workforce.

Evolve Reskilling and Upskilling to Meet Modern Needs

Reskilling and upskilling improve company culture, engage learners with their work and help retain talent. Here's how learning with an LMS can deliver practical training to close skill gaps.

Mobile Learning: Delivering Adaptable Learning Experiences

Mobile learning embodies flexible, future-forward training. With a capable device in their pocket, your learners can take training into their own hands and bring the learning culture into their routine.

Learning Advocates: How Leaders Can Make or Break Your Learning Culture

While learning strategies and cultures are changing to fit current workforce needs, lean into your managers and leaders to be the advocates of your modern learning culture.

Take Corporate Learning to the Next Level with Artificial Intelligence

The idea that AI can make training more efficient isn't hard to believe. But when it comes to creating a long-term culture of healthy learning, the benefits of an LMS with advanced artificial intelligence become even more valuable.

Using LMS Analytics to Gain Learning Culture Insights

Reporting and analytics are your secret weapons to make informed decisions about your learning culture and how to achieve business goals.

Rise to the Challenge: Creating A Continuous Learning Culture

A healthy continuous learning culture requires consistent work and careful planning. An LMS makes it easier to achieve your long-term learning objectives.
---
Recommend this read to your friends and #shareknowledge!
Get your copy now
---
Join other professionals like you, who have downloaded the eBook!