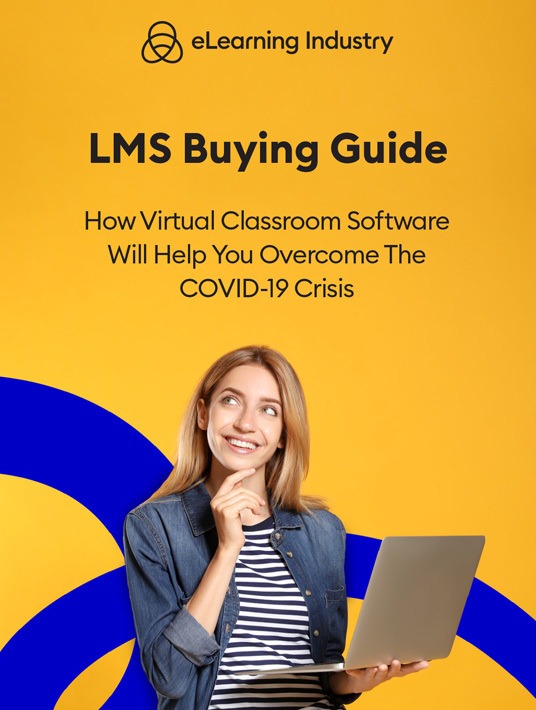 eBook
LMS Buying Guide: How Virtual Classroom Software Will Help You Overcome The COVID-19 Crisis
eBook
LMS Buying Guide: How Virtual Classroom Software Will Help You Overcome The COVID-19 Crisis
by eLearning Industry / Published: Sep 30 2020
What it's about
The COVID-19 pandemic has completely changed the way organizations pursue their L&D goals. This is why the need for top-notch virtual classroom software is higher than ever. In this eBook, you can discover all the insider tips and tricks to choosing the best virtual classroom software for your business in order to adapt to the new reality.
Key chapters
8 Benefits Of Virtual Classroom Software Versus ILT To Face The Coronavirus Crisis

Find out why you should opt for virtual classroom software solutions instead of sticking to your traditional ILT methods.

7 Tips To Choose The Best Virtual Classroom Software Today

This chapter features all the tips and tricks you need to choose a ROI-boosting LMS today.

8 Virtual Classroom Software Comparison Techniques To Maximize ROI

How do you break the tie among software vendors and get the best value for money? Read this chapter to find out.

10 Crucial Features To Look For In Your New Virtual Classroom Software

While every organization has their own LMS wish list, there are a few crucial features every company should consider, especially during the COVID-19 crisis.

7 Secrets To Set A Realistic Virtual Classroom LMS Budget

Personalized distance learning shouldn't make you dig deep into company pockets. Here's how to set a realistic virtual classroom software budget.

8 Tips To Use A Virtual Classroom LMS Directory To Qualify Vendors

An online virtual classroom LMS directory does most of the virtual legwork for you and simplifies the software selection. Read on to learn how to make the most out of it.

8 Steps To Write A Winning RFP For Virtual Classroom Software

This chapter features 8 steps to write a top-notch RFP for your new virtual classroom LMS.

8 Virtual Classroom LMS Support Services That Drastically Improve Functionality

Discover why support services are not an unnecessary expense and how they can help you improve functionality.

7 Virtual Classroom Software Activities To Prep Your Team For The New Normal

In this chapter, we share 7 virtual classroom software activities to prep your employees during and after the Coronavirus crisis.

8 Stress-Free Steps To Find The Best Virtual Classroom Software Vendor

Follow these 8 stress-free steps to choose the best virtual classroom software vendor in record time.
---
Recommend this read to your friends and #shareknowledge!
Get your copy now
---
Join other professionals like you, who have downloaded the eBook!
Other resources by eLearning Industry