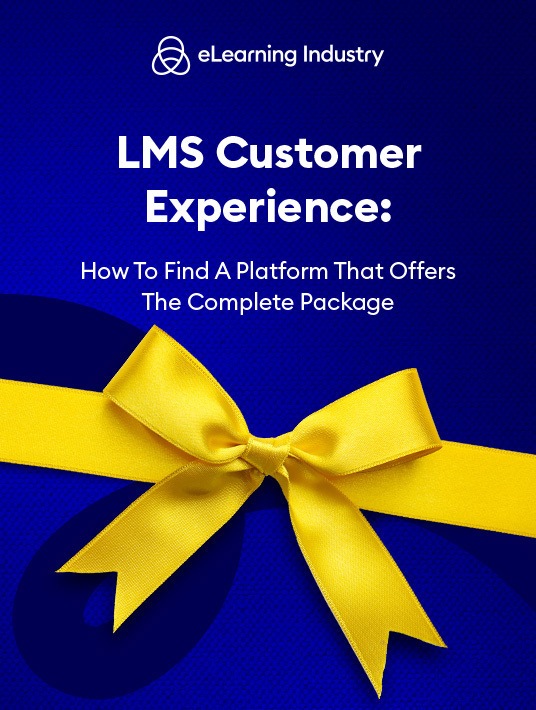 eBook
LMS Customer Experience: How To Find A Platform That Offers The Complete Package
eBook
LMS Customer Experience: How To Find A Platform That Offers The Complete Package
by eLearning Industry / Published: Jun 01 2018
What it's about
What are the warning signs that you should look for in your current LMS before deciding to buy a new one? Are your top LMS choices going to deliver the superior customer experience you deserve? Are you setting the bar so high that no LMS will ever suffice? Are you considering LMS customer experience when evaluating vendors? Is your LMS vendor cooperative, fully transparent, and communicative? Is your LMS vendor ready and willing to take care of their customers every step of the way? Download our eBook to find the answers to these questions and much more...
Key chapters
7 Reasons Why LMS Customer Experience Really Matters

Discover the importance of finding an LMS that delivers a superior customer experience for your organization.

Delivering A Superior LMS Customer Experience: 8 Top Benefits For Your Organization

Ease of use and scalability are essential but finding an LMS that offers the ideal customer experience should be #1 on your list.

Setting The Standard: How To Identify Your LMS Expectations Before Purchasing A New Platform

Find 6 key questions to ask in order to gauge your LMS expectations before purchasing an LMS.

6 Tips To Find An LMS Vendor That Offers The Ideal Level Of LMS Customer Support

Check if you can count on the LMS vendor to help you optimize functionality and get the most from your new LMS.

7 Tips To Evaluate LMS Vendors When Purchasing A New LMS

Learn how to evaluate LMS vendors when purchasing a new Learning Management System.

Does Your Vendor Value The LMS Customer Experience? 5 Tell-Tale Signs That Your Current LMS Falls Short

Discover tell-tale signs that your current platform scores low in LMS customer experience.

Tips To Avoid 7 LMS Customer Experience Challenges

Learn how to avoid 7 LMS customer experience challenges.

7 Traits That ALL Customer-Friendly LMS Solutions Have In Common

How to Identify a customer-friendly LMS: 7 common elements to observe.

Customer Experience Insights: 5 Tips To Use LMS Reviews And Ratings To Evaluate Your Next LMS

Get invaluable hints and tips from customers that have evaluated the LMS before you.

The LMS Buyer's Journey: How Customer Experience Applies In Every Stage Of The Cycle

An exploration on how CX applies at every stage of the LMS buyer's journey.

7 Tips To Select A System That Delivers The Best LMS Customer Experience Using An Online Directory

Learn how to use an online directory to find an LMS that offers the best CX.

5 Ways To Evaluate The LMS Customer Experience During A Free Trial Or Demo

Discover 5 ways to evaluate the LMS customer experience during your next free trial or demo.
---
Recommend this read to your friends and #shareknowledge!
Get your copy now
---
Join other professionals like you, who have downloaded the eBook!
Other resources by eLearning Industry