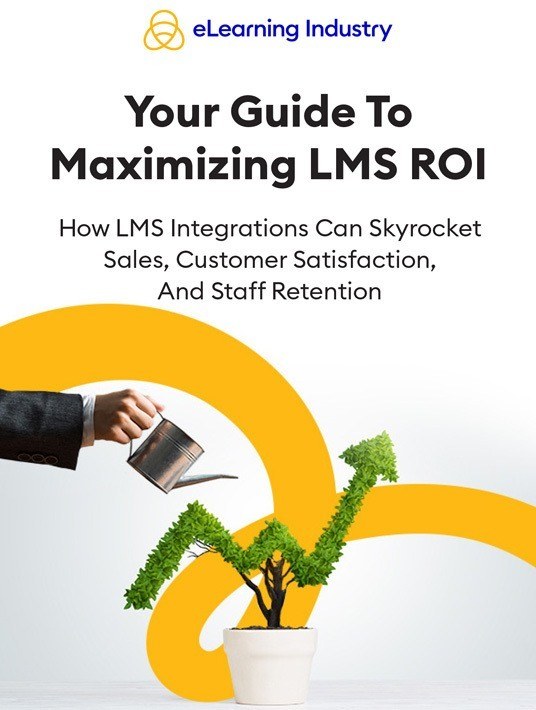 eBook
Your Guide To Maximizing LMS ROI: How LMS Integrations Can Skyrocket Sales, Customer Satisfaction, And Staff Retention
eBook
Your Guide To Maximizing LMS ROI: How LMS Integrations Can Skyrocket Sales, Customer Satisfaction, And Staff Retention
by eLearning Industry / Published: Nov 12 2020
What it's about
The right LMS integrations can turn your new Learning Management System into a multifunctional business tool.  This eBook can help you choose the best integrations based on your L&D strategy and business needs.
Key chapters
How To Maximize LMS Functionality: LMS Integrations Basics And Benefits For Your Organization

LMS integrations can significantly improve functionality and bring more to your company's bottom line. Here are 8 of the perks they offer.

Types Of LMS Integrations That Streamline Your Business Operations

Which LMS integrations should you add to your shopping list? Find out the answer in this chapter.

8 Tips To Choose A Vendor That Provides The Ideal LMS Integrations For Your Customer Care Team

Check out 8 tips to choose a vendor that provides the ideal LMS integrations for your customer support team.

8 Ways LMS Integrations Can Help You Enhance Performance Management And Evaluate Big Data

Let's look at 8 ways Learning Management System integrations support performance management.

7 Perks SalesForce LMS Integration Brings To Your Profit Margin

In this chapter, we share 7 notable advantages of investing in a SalesForce LMS for your SMB.

7 Unexpected Ways To Use An LMS With SalesForce Integration For Partner Online Training

Discover how to implement an LMS with SalesForce for external partner online training.

7 Tips On Using CRM-LMS Integrations To Improve Customer Satisfaction Scores

Take a look at these useful tips to choose and use CRM-LMS integrations to boost your customer satisfaction scores.

6 Ways To Use LMS Integration With Video Conferencing Tools For Team Building

LMS integration with video conferencing tools builds a stronger team dynamic and breaks down geographical barriers. Here's how to implement it in your L&D strategy.

Stress-Free Sales: 7 Tips To Pick The Perfect Platform With LMS eCommerce Integrations

Find out 7 insider secrets to pick the perfect platform with LMS eCommerce integrations.

Everything You Need To Know About Investing In An LMS With Single Sign-On

Find out all you need to know in order to invest wisely in an LMS with single sign-on.
---
Recommend this read to your friends and #shareknowledge!
Get your copy now
---
Join other professionals like you, who have downloaded the eBook!
Other resources by eLearning Industry