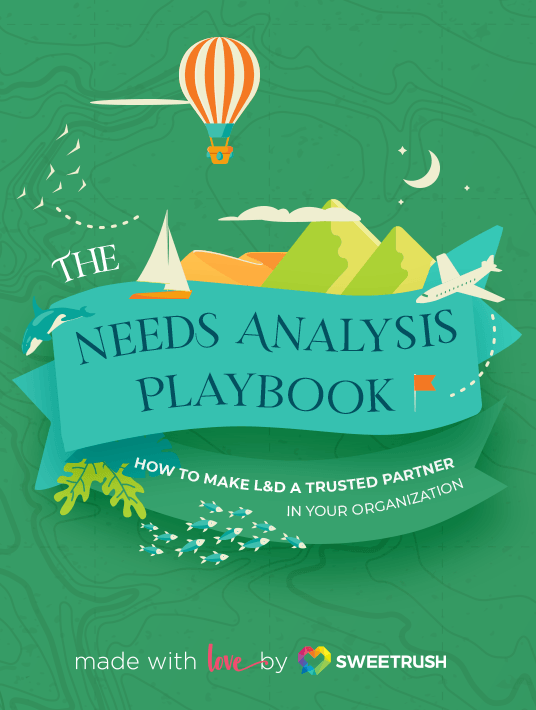 eBook
The Needs Analysis Playbook: How To Make L&D A Trusted Partner In Your Organization
eBook
The Needs Analysis Playbook: How To Make L&D A Trusted Partner In Your Organization
by SweetRush Inc. / Published: Mar 16 2021
What it's about
Do you want your learning experiences to engage learners, shift performance, and impact business results? Find out how a needs analysis can help elevate your solutions, obtain stakeholder buy-in to your vision, and add value to the business.
Key chapters
Stakeholder Analysis

Stakeholders aren't learning professionals, so they tend to approach L&D with what they want—aka solutions—instead of what they need. But if you don't know what the underlying problem is, how can you be sure that training will solve it? In this chapter, we share six powerful stakeholder questions to help you uncover the business need, establish what success looks like, and determine whether training is the right—and only—solution.

The Learner Audience

We live in an age where customer experience (not the product) is king. What does this mean for L&D? We need to shift our approach to learning solution design and focus on the entire learner experience, instead of only on outcomes. In this chapter, we'll show you how to go straight to the source and find out what learners want and need from their experience.

Constraints

Want to be a trusted partner? Learn to be aware of and work within constraints. And raise the flag when things look like they might go awry. In this chapter, we'll show you how to anticipate constraints that might cause risk, so you can positively influence solutions and stakeholder decisions.

The Needs Analysis Report

How do you use your needs analysis to get buy-in from stakeholders? By speaking their language. In this chapter, we'll show you how to prepare a needs analysis report that positions your findings and recommendations as solutions to a business problem. Learn how to synthesize your findings and structure, and organize a report that will win over your stakeholders.
---
Recommend this read to your friends and #shareknowledge!
Get your copy now
---
Join other professionals like you, who have downloaded the eBook!
Other resources by SweetRush Inc.