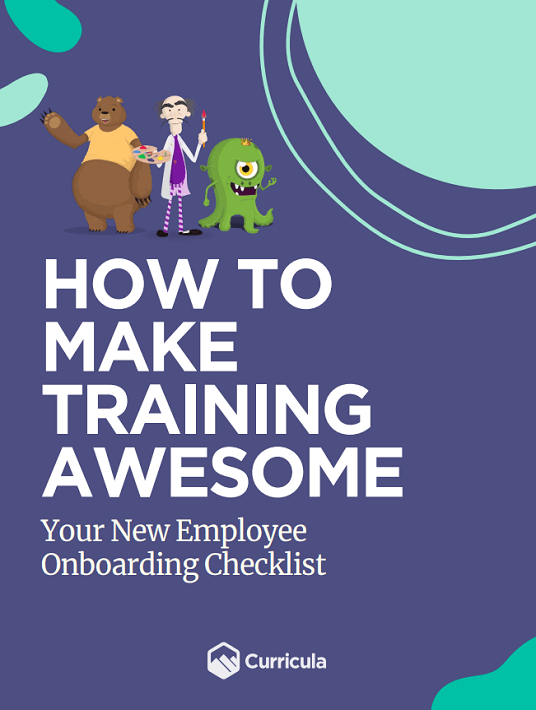 eBook
How To Make Training Awesome: Your New Employee Onboarding Checklist
eBook
How To Make Training Awesome: Your New Employee Onboarding Checklist
by Curricula / Published: May 18 2021
What it's about
How do you fully engage your new hires turn those feelings of apprehension into enthusiasm? This eBook will help you bring excitement to your new employee onboarding process and beat the boredom, once and for all!
Key chapters
Making Your Employee Onboarding Process Fun (Even Online)

In this chapter, we'll kick off employee onboarding best practices with the essentials, including the must-do components in your new hire training.

How to Create a New Employee Onboarding Checklist Template

We'll describe the steps to successfully onboard a new employee, including a five-step onboarding checklist to use for your new employees which covers the major checkpoints.

Best Practices for Employee Engagement - Using Storytelling in Your Training

Let's explore why a story-based works for experiential learning and how to develop content that entertains and educates.

The Learning Path - Creating a Company Culture of Ongoing Employee Training

How does company culture tie into training? This section covers everything from continuous learning tips to creating an online training schedule for your team with incremental goals.

Why Security Awareness and Phishing Training is Required from Day 1

We'll offer some best practices for new employee onboarding security awareness training and highlight the importance of building a culture of security from the very start.

How to Gamify Your Compliance Training

Learn how to utilize company-wide goal alignment to get better results in your compliance training and boost employee engagement through gamification.

Remarkable Remote New Hire Onboarding Best Practices + Ideas

In this chapter, we'll discuss how to revise your checklist to account for telecommuting teams and potential pitfalls to avoid.

Getting Feedback to Improve Your Employee Onboarding Experience

This list of questions is designed to get your wheels turning about how to measure the effectiveness of the employee onboarding experience in your own organization.
---
Recommend this read to your friends and #shareknowledge!
Get your copy now
---
Join other professionals like you, who have downloaded the eBook!