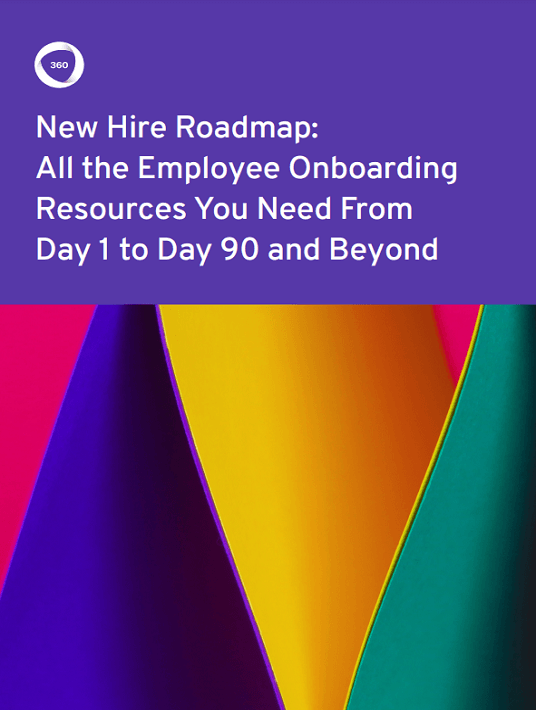 eBook
New Hire Roadmap: All The Employee Onboarding Resources You Need From Day 1 To Day 90 And Beyond
eBook
New Hire Roadmap: All The Employee Onboarding Resources You Need From Day 1 To Day 90 And Beyond
by 360Learning / Published: Sep 30 2021
What it's about
You've put in the time and effort to source the top talent in the market. You've hired the best candidates out there, and they're excited to come on board and get started by contributing new ideas to your business. Now, it's up to you to harness all that energy by making sure they have the best possible new hire experience. In this eBook, we'll show you all the employee onboarding resources you need to build a great new hire roadmap from Day 1 to Day 90 and beyond.
Key chapters
3 Reasons Why A Structured Employee Onboarding Process Makes A Major Difference For New Hires

Three reasons why a structured employee onboarding process makes such a major difference for new hires.

Employee Onboarding Checklist: Your New Hire Training Blueprint For The First 30, 60, And 90 days

We've got an employee onboarding template you can use to structure your onboarding, focus on continual training, and help your new hires ramp up quickly and effectively.

3 Key Characteristics Of Wow-Worthy New Employee Onboarding Programs

What are the three characteristics that all successful employee onboarding programs share?

Team Building 101: The 3 Key Roles Of Collaborative Learning In Onboarding New Hires

In this chapter, we're going to break down the three key roles of Collaborative Learning in onboarding new hires.

Maximizing Metrics: How To Demonstrate Business Impact Through 4-Step Employee Onboarding Analytics

Where should you get started with demonstrating business impact? It all comes down to matching new hires with the right employee onboarding metrics. Here's how we do this in four key steps to show our online training ROI.

Adapting To The New Normal: 3 Tips To Adjust Your Onboarding Process To Reflect A Remote Work Environment

We've got three new hire training tips to adjust your employee onboarding process to suit your new remote learning culture, support employee development, and create the best possible new hire experience from a distance.

The Right Tech For The Task: Choosing The Best Employee Onboarding Software For New Hire Training Experiences in 3 Key Steps

Choosing the best employee onboarding software is all about looking for three key factors: relevance, engagement, and collaboration.

New Hire Onboarding Showcase: How 4 Leading L&D Experts Structure Their Strategies

We'll show you four practical employee onboarding examples, with detailed case studies of how the world's leading companies deliver compelling new hire experiences.
---
Recommend this read to your friends and #shareknowledge!
Get your copy now
---
Join other professionals like you, who have downloaded the eBook!
Other resources by 360Learning