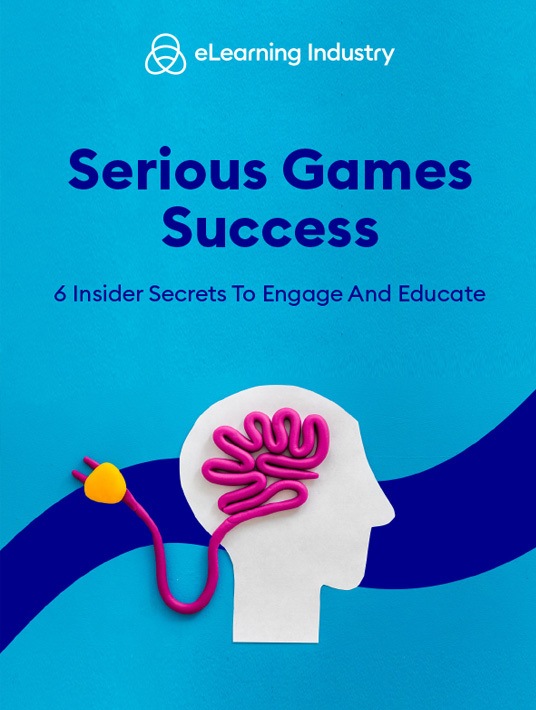 eBook
Serious Games Success: 6 Insider Secrets To Engage And Educate
eBook
Serious Games Success: 6 Insider Secrets To Engage And Educate
by eLearning Industry / Published: Nov 23 2020
What it's about
Serious games can be a powerful weapon in your L&D arsenal and bring success to your organization if you know how to use them correctly. They can help you engage your remote workforce, boost intrinsic motivation, and fuel friendly competition, not to mention, track employee performance and identify areas for improvement thanks to built-in feedback. Many organizations even use eLearning games to facilitate mistake-driven learning more discreetly and bolster staffer self-confidence. In short, employees have the rare opportunity to pinpoint performance, skill, and knowledge gaps in a risk-free environment that still mimics workplace pressures. This way, they can prepare for real-world challenges that come their way. The caveat is that games must align with organizational objectives and outcomes instead of becoming a virtual distraction. While the serious game benefits are undeniable, launching your own strategy can be daunting. How do you implement them in your online training courses to ensure success and educate and inspire your staffers? Are they really the best approach for talent development? How do you walk that fine line between entertainment and education? This eBook provides you with all the basic info, top tips, and prime examples in order to successfully implement serious gaming in your online training program. It also explores the psychology behind serious games success to tap into your team's full potential and understand what drives them as well as the key differences between serious games and gamification so that you make the right decision for your L&D initiatives. Download this eBook to discover serious games success design best practices that can help you roll out in record time. You'll be able to strike a balance between entertainment and employee development by following our insider secrets. Who knows, employees might actually enjoy the experience so much that they forget it's mandatory online training. So, get your copy today and see how serious games can transform your L&D program...even if you don't have any prior design skills or expertise.
Key chapters
What Are Serious Games And How Do They Fit Into Your L&D Strategy?

Check out what serious games are and how you can fit them into your L&D strategy.

Immerse And Inspire: The Psychology Behind Successful Serious Games

Discover the science behind serious games and how they can drive professional development.

Are Online Training Games The Best Approach For Remote Talent Development?

Are serious games appropriate for training your remote employees? Find out the answer in this chapter.

How To Design Engaging L&D Experiences: 10 Serious Gaming Best Practices For Fast Implementation

Learn how to design effective serious games that will bring results while keeping your employees motivated.

5 Differences Between Serious Games Versus Gamification

Do you consider serious games and gamification to be one and the same? Read this chapter to discover why this is not the case.

10 Amazing Serious Games Examples For Corporate eLearning

Check out 10 prime examples of serious games that will make all the difference in your online training plan.
---
Recommend this read to your friends and #shareknowledge!
Get your copy now
---
Join other professionals like you, who have downloaded the eBook!
Other resources by eLearning Industry