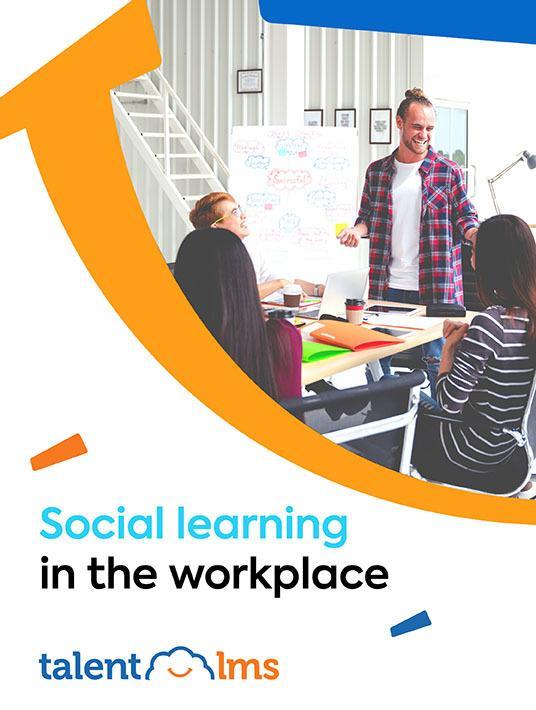 eBook
Social Learning In The Workplace: How Collaborative Activities Grow Strong Teams
eBook
Social Learning In The Workplace: How Collaborative Activities Grow Strong Teams
by TalentLMS / Published: Jun 30 2022
What it's about
Social learning is at the heart of every organization that relies on communication, empathy, and teamwork. Explore this eBook to find out how to build a social learning culture and which are the best collaborative activities.
Key chapters
What is collaborative learning?

Social and collaborative learning is not something new. Find out the history behind this concept, and how you can bring it to the modern workplace.

Benefits of collaborative learning in the workplace

From increasing training ROI to building a sense of community to boosting knowledge retention, explore all the benefits you'll get with social learning.

10 social learning activities and how to apply them

Time to put theory into practice. Discover collaborative learning activities that you can include in your L&D courses—whether you're training a team of 5 or a large group of 100 employees.

The role of technology in social learning

When you hear the term "social and collaborative learning", you're probably thinking of in-person interaction. But this doesn't mean that tech can't be a part of it, too. Discover a wide range of tools and apps that will help you engage in social learning even remotely.

How to grow a social learning culture

In this chapter, you'll find out 8 tips to turn your learners into active participants. And make social learning a long-term training strategy in your workplace.

The dark side of social learning - Myths, limitations, and challenges

Social learning comes with many benefits but isn't always the best option. In this chapter, we discuss limitations and challenges and debunk some of the most common myths that surround social learning.

Are your social learning activities successful?

As with all training initiatives, it's important to know where you stand. This chapter will guide you through measuring the impact that social learning has on your company and people.
---
Recommend this read to your friends and #shareknowledge!
Get your copy now
---
Join other professionals like you, who have downloaded the eBook!
Other resources by TalentLMS