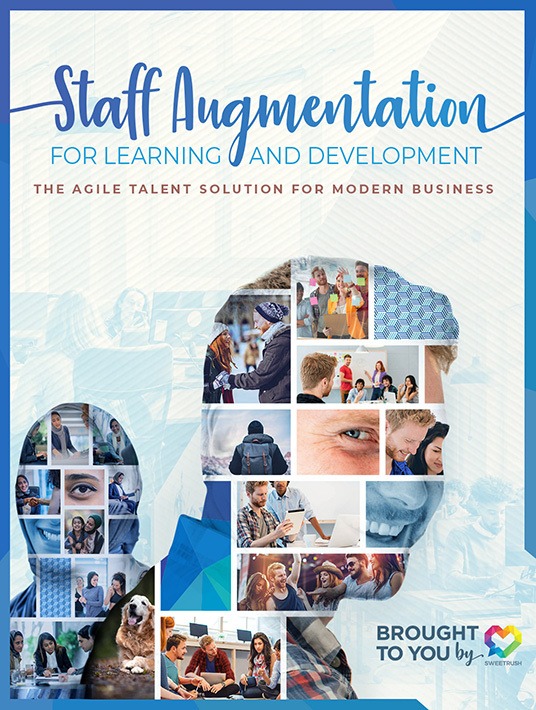 eBook
Staff Augmentation For Learning And Development: The Agile Talent Solution For Modern Business
eBook
Staff Augmentation For Learning And Development: The Agile Talent Solution For Modern Business
by SweetRush / Published: Nov 01 2019
What it's about
Staff augmentation is quickly becoming the way that smart L&D managers keep their teams agile, bridge skills gaps, and even shorten project timelines. Discover how to make this strategy work for your organization from SweetRush's experts.
Key chapters
Agile Talent: Use Staff Augmentation As Your Secret Weapon

"Change" is the undisputed theme in today's business environment, and L&D departments are tasked with quickly developing learning programs. Forward-thinking organizations are embracing the "agile talent" model to rapidly scale.

Outsource Or Augment?

There are two options on your plate when it comes to using outside talent: you can entrust a full-capability agency or you can get a "jack-of-all-trades" to work on your project. Four questions help you decide.

Do You Really Need A Staffing Partner?

Why should you use a staff augmentation vendor rather than do the recruiting yourself? Take a look at the end-to-end process of recruitment, from defining the role to onboarding your new hire—as well as the benefits of working with a staff augmentation vendor.

Reap The ROI Of Staff Augmentation

Do you know of the long list of plusses of engaging a staffing vendor to find and oversee highly skilled temporary consultants? There are time, financial, logistical, cultural, and even psychological benefits to appreciate.

How To Vet Staffing Companies

When you need true L&D pros, not just any staffing agency will do. Do you know how to read between the lines and find a staffing partner who can assess your L&D needs? You do now. Get the lowdown on the factors that really matter.
---
Recommend this read to your friends and #shareknowledge!
Get your copy now
---
Join other professionals like you, who have downloaded the eBook!
Other resources by SweetRush