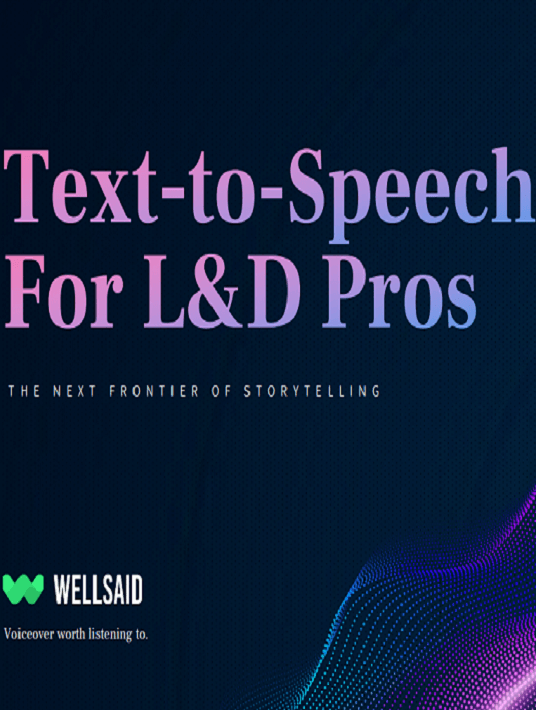 eBook
Text-To-Speech For L&D Pros: The Next Frontier Of Storytelling
eBook
Text-To-Speech For L&D Pros: The Next Frontier Of Storytelling
by WellSaid Labs / Published: Apr 20 2021
What it's about
Gone are the days of robotic AI voices. Discover how to connect with your online learners and break down accessibility barriers with the right tech tools. This Text-To-Speech for L&D Pros guide explores the many benefits of lifelike speech synthesis and tips to choose the best AI voice generator for your corporate training videos.
Key chapters
What Is Text To Speech?

Let's take a closer look at what text-to-speech is in the context of learning and development.

Do Text-to-Speech Voices Actually Sound Real?

We break down what makes AI voices sound so natural, from pauses to localities.

What the Research Says

This chapter highlights research from a 2019 study (synthetic versus voice actors).

Voiceover Narration And eLearning Scripts: 4 Things You Should Know

Here are some tips to select the right voice, draft scripts, and beyond.

Lifelike Speech Synthesis: How To Do Voiceovers That Engage Learners

These best practices will help you create more engaging (and exciting) voiceovers for your eLearning audience.

6 Reasons To Use Realistic TTS In Your Online Training Courses

We look at the top reasons why you should use text-to-speech, including cost effectiveness and privacy.

4 Things To Consider When Using A Text To Speech App For eLearning

Here's all the information you need to find the ideal TTS app for your online training initiatives.

How To Voiceover A Video And Minimize Your eLearning Production Costs

This section shows you how to produce top notch training videos with TTS without breaking the bank.

The Secret to Choosing The Best AI Voice Generator For Your Corporate Training Videos

Follow these insider tips to select the right AI voice generator, regardless of your niche or budget.
---
Recommend this read to your friends and #shareknowledge!
Get your copy now
---
Join other professionals like you, who have downloaded the eBook!