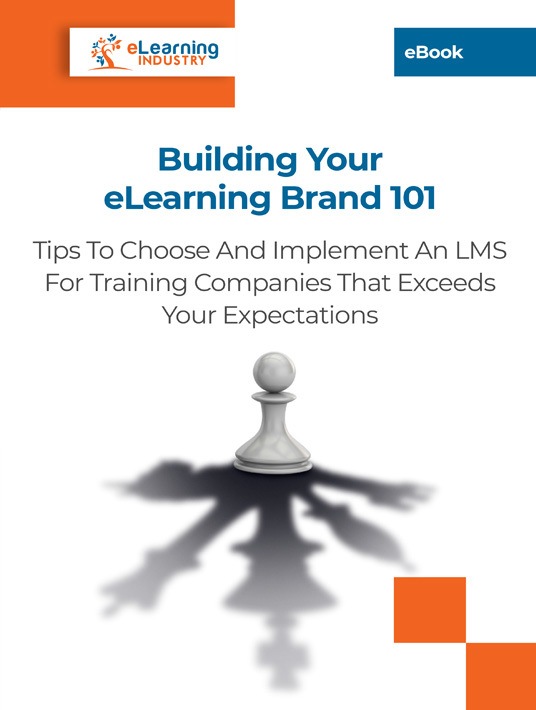 eBook
Building Your eLearning Brand 101: Tips To Choose And Implement An LMS For Training Companies That Exceeds Your Expectations
eBook
Building Your eLearning Brand 101: Tips To Choose And Implement An LMS For Training Companies That Exceeds Your Expectations
by eLearning Industry / Published: Apr 09 2020
What it's about
Investing in the right LMS and implementing it in your training company comes with its perks. Explore this eBook and discover how essential it is to choose an LMS that will assist in building your eLearning brand.
Key chapters
Perks Of Specialized eLearning Software

Is specialized eLearning software a safe bet? Or should you opt for a traditional LMS for your training company?

7 Tips To Calculate The LMS Implementation Budget For Training Companies

Check out how to keep track of your expenses by calculating the LMS implementation budget for training companies.

7 LMS Reports Each Training Company Must Include To Improve Returns

Discover which reports you must include in your LMS in order to improve ROI and employee performance.

8 Profit-Boosting LMS Features For Training Companies You Should Look For

After you have secured funding for your new LMS, find out which LMS features for training companies to opt for to benefit your bottom line.

7 LMS Implementation Mistakes For Training Companies And How To Avoid Hurting Your Bottom Line

Investing in a new LMS doesn't guarantee success. What are the common LMS implementation mistakes for training companies that can reduce your profit margin?

How To Choose The Ideal LMS For Training Companies With Limited Resources

Limited budgets shouldn't mean limited features. Explore 7 tips on how to find an LMS that offers the best value for money.

7 Reasons To Invest In An LMS For Training Companies With Multi-Tenancy Support

Discover why an LMS with multi-tenancy support strikes the balance and helps you maximize your online training ROI.

7 Tips To Implement An LMS For Training Companies With eCommerce Integrations

Can Learning Management Systems turn your online training course into an online gold mine? They can if they come with eCommerce integrations.

Brand Image Alignment: 7 Branding Elements To Include In An LMS For Training Companies

They say image is everything, but how can training companies make their mark on the new LMS?

8 Support Services To Consider When Investing In A New LMS For Training Companies

Don't wait for login errors and other LMS snafus to put your corporate eLearning project in peril. Invest in an LMS for training companies with support services.

Using An Online Directory To Choose The Best LMS For Training Companies

Check out 8 top tips for using an online directory to choose the best LMS for training companies.

Test Drive Checklist: 7 Tips To Use A Free Trial To Find The Ideal LMS For Training Companies

A free trial helps prevent costly investment mistakes and find the best eLearning tool for the job. Find out how you can make the most of your LMS free trial.
---
Recommend this read to your friends and #shareknowledge!
Get your copy now
---
Join other professionals like you, who have downloaded the eBook!
Other resources by eLearning Industry