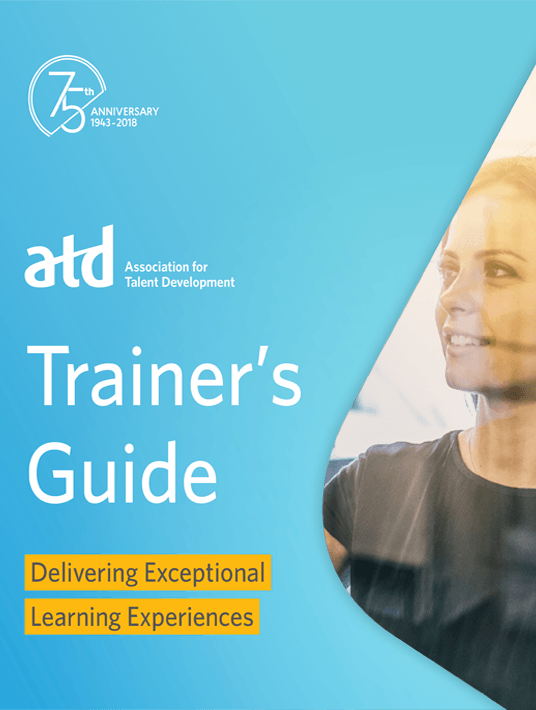 eBook
Trainer's Guide - Delivering Exceptional Learning Experiences
eBook
Trainer's Guide - Delivering Exceptional Learning Experiences
by ATD Association for Talent Development / Published: Oct 09 2018
What it's about
In this guide, we'll go over how to create nurturing learning environments, and identify the 5 most effective skills trainers need to have. We also demonstrate the best way to enhance your skills, deal with challenging participants, and keep your training programs funded.
Key chapters
Create Nurturing Learning Environments

Six main components make up the environment, and learning and development professionals should keep these in mind when planning a training experience.

The 5 Most Effective Skills Trainers Need to Have

Whether you're recent to the training business or consider yourself a seasoned veteran, it's incumbent upon you to hone your training skills, not just for your professional capacity but also to exceed your audience's expectations.

Tips for Dealing With Challenging Participants

Most training sessions will have at least one person who is "not with the program." By anticipating possible disruptions, you can plan for effective action to handle any issues.

How to Keep Your Training Programs Funded

Learning professionals and managers have always been tasked with building the talent required to meet public demand for better and more services. Now they are asked to do it with less money and fewer resources, and that likely will not change anytime soon.

How to Enhance Your Skills

Take the quiz or connect with a professional development specialist to determine the next step in your professional development journey.
---
Recommend this read to your friends and #shareknowledge!
Get your copy now
---
Join other professionals like you, who have downloaded the eBook!
Other resources by ATD Association for Talent Development