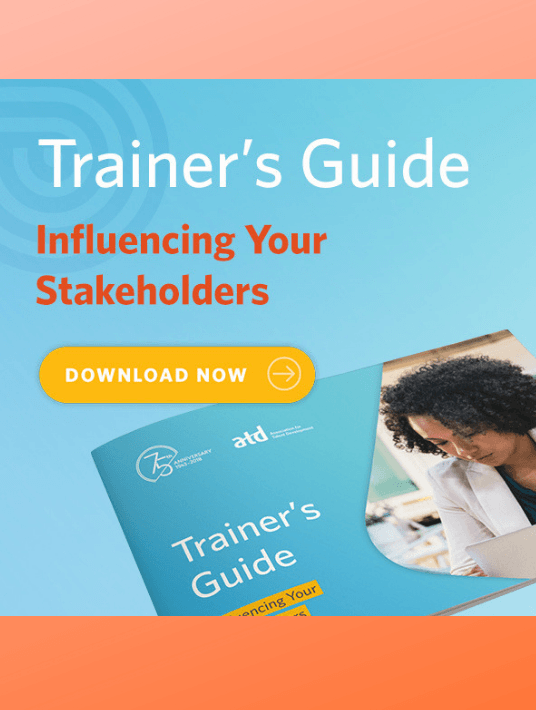 eBook
Trainer's Guide - Influencing Your Stakeholders
eBook
Trainer's Guide - Influencing Your Stakeholders
by ATD Association for Talent Development / Published: Nov 22 2018
What it's about
Go from order-taker to impact maker. In this guide, you'll learn different ways to handle training requests, get a peek into obtaining buy-in for your learning programs, and see how Comcast's L&D function drove impact and alignment in their organization.
Key chapters
Chapter 1: Dealing with Misguided Training Requests

"Training requests" as a fix for anything and everything are a consistent thorn in the paw for all Learning and Development departments.

Chapter 2: When is Training the Answer?

Here's a fairly common situation for instructional designers: A training request pops up, seemingly out of nowhere, because a problem has been identified.

Chapter 3: What Does Your Organization Create?

The difference between a vision (or mission) and purpose is emotion. Vision or mission statements are logical. They aim for the head.

Chapter 4: Tips for Defending Your Budget

The annual budgeting process instills fear in the hearts of many training managers. It is a time of deadlines, paperwork, meetings, meetings, and more meetings.

Chapter 5: [Case Study] Comcast's Winning Formula-Impact and Alignment

From her vantage point atop the learning organization at Comcast Cable, it's easy for Martha Soehren to forget how radically different things were only six years ago.
---
Recommend this read to your friends and #shareknowledge!
Get your copy now
---
Join other professionals like you, who have downloaded the eBook!
Other resources by ATD Association for Talent Development