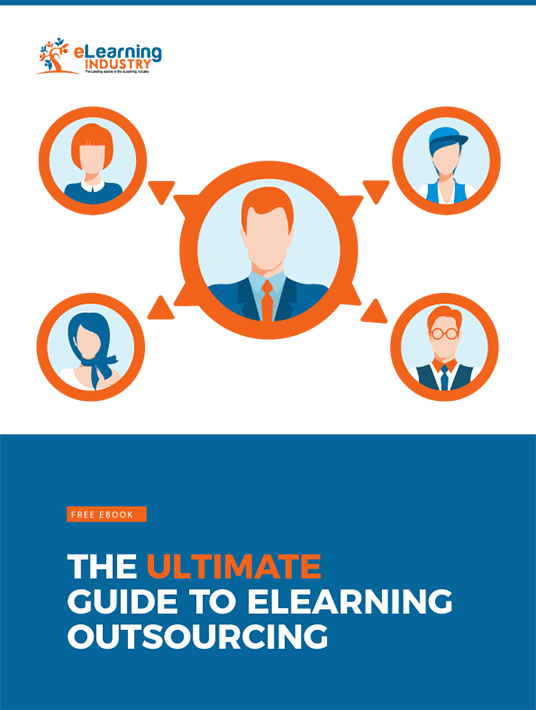 eBook
The Ultimate Guide To eLearning Outsourcing
eBook
The Ultimate Guide To eLearning Outsourcing
by eLearning Industry / Published: Jun 20 2017
What it's about
Have you been considering whether it is more cost-efficient to tackle the task in-house or outsource it? Have you tried hard at eLearning course development, but you're still not achieving the desired results? How can you make sure that you stay on budget and make the most of your existing online training resources? Finding an eLearning outsourcing content provider who meets all your needs can be a difficult undertaking.
Key chapters
Top 5 Benefits Of eLearning Outsourcing

Τhe top 5 benefits of eLearning outsourcing to help you through the decision-making process.

How To Avoid 5 Common eLearning Outsourcing Obstacles

Τhe top 5 eLearning outsourcing obstacles to consider, as well as tips to avoid them entirely.

Top Tips For Choosing The Right eLearning Outsourcing Content Provider

5 tips on how to choose the right eLearning partner for your company.

Tell-Tale Signs That It's Time For eLearning Project Outsourcing

4 tell-tale signs that you're ready to hire an external eLearning professional.

6 Tips To Create A Realistic eLearning Outsourcing Budget

Before you seal the deal on your vendor partnership, here are 6 tips to create a realistic eLearning outsourcing budget.

5 Tips To Prepare For eLearning Project Outsourcing

Let's look at 5 ways to take the stress out of the process of outsourcing your next eLearning project by
preparing well in advance.

Outsourcing eLearning: 6 Facts And Stats eLearning Pros Should Know

Let's take a look at some need-to-know facts and stats that you should consider before outsourcing your
next eLearning project.

5 Tips To Ensure That Your Outsourced eLearning Project Runs Smoothly

5 ways to ensure that your outsourced eLearning project will run smoothly, minimizing any possibility for complications and misunderstandings.
---
Recommend this read to your friends and #shareknowledge!
Get your copy now
---
Join other professionals like you, who have downloaded the eBook!
Other resources by eLearning Industry