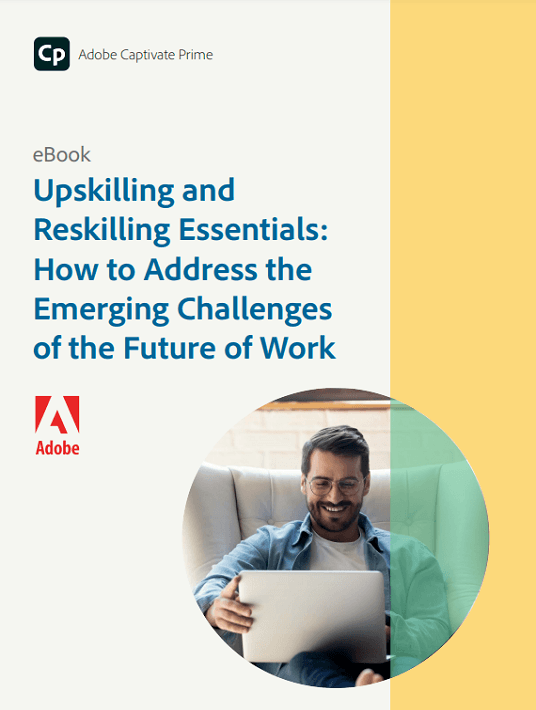 eBook
Upskilling And Reskilling Essentials: How To Address The Emerging Challenges Of The Future Of Work
eBook
Upskilling And Reskilling Essentials: How To Address The Emerging Challenges Of The Future Of Work
by Adobe / Published: May 26 2021
What it's about
Skills are the building blocks that pave the way for long-term business success. This ultimate guide covers all the upskilling and reskilling essentials you need to train your remote teams, from pinpointing gaps to choosing the best LMS for your L&D strategy.
Key chapters
5 Reasons Why Upskilling And Reskilling Is Crucial For Talent Development

Let's kick things off by highlighting the profitable perks of upskilling and reskilling training for your team.

7 Prime Examples That Highlight The Reskilling and Upskilling Difference In Lifelong Learning Programs

This chapter points out the noticeable differences between reskilling and upskilling in the real world.

Employee Skills Assessment: Top Tips To Pinpoint Gaps And Improve On The Job Performance With A Skills Matrix

Learn tips to identify pain points and boost performance with a targeted skills matrix.

8 Steps To Develop A Competency Development Plan With Gamification

Discover how to gamify your competency-based training to take employee engagement to the next level.

6 Strategies To Enhance Your Employee Retention Program And Upskill Staffers In 2021 (And Beyond)

Dive into strategies to reduce turnover and develop crucial skills for years to come.

The Right Tool For The Task: 8 Must-Have LMS Features For Skills Development Training

Here are some insider secrets to select the best LMS for your upskilling and reskilling strategy.
---
Recommend this read to your friends and #shareknowledge!
Get your copy now
---
Join other professionals like you, who have downloaded the eBook!