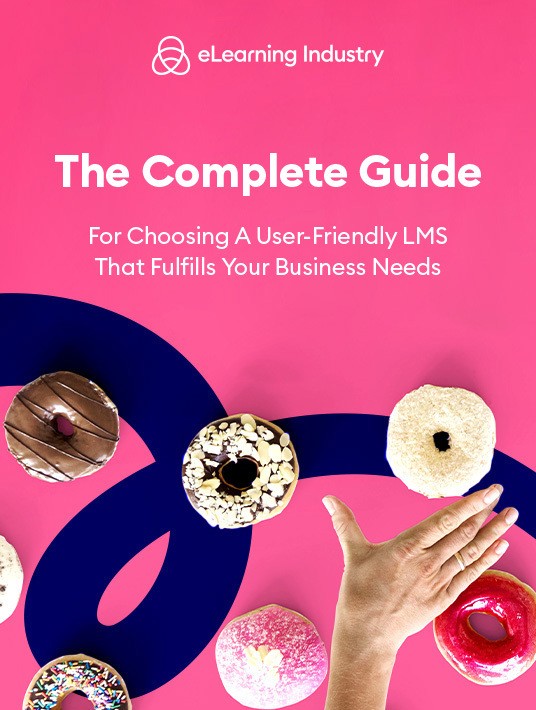 eBook
The Complete Guide For Choosing A User-Friendly LMS That Fulfills Your Business Needs
eBook
The Complete Guide For Choosing A User-Friendly LMS That Fulfills Your Business Needs
by eLearning Industry / Published: Jun 06 2018
What it's about
What's the point of an LMS if no one gets any benefit from using it? Does your current LMS pass the test, or is it time to look for a new system that can deliver a better User Experience? Are you in search of an LMS that offers the best LMS User Experience at a price you can afford? Can you find a new, user-friendly LMS that works seamlessly with what you already have? Can you tell the difference between LMS User Experience and LMS usability? Do you know how to ensure that the UI is user-friendly during an LMS free trial? Do you want your online learners to embrace your new LMS and actively participate in the implementation process? Download our eBook to find the answers to these questions and much more...
Key chapters
LMS User Experience: Does It Really Matter?

Check why LMS User Experience matters for both front and back-end users.

Top Advantages Of Using An LMS That Ranks High On The LMS Usability Scale

If you're still wondering why usability should be at the top of your priority list, find here 8 notable advantages to consider.

13 Key UX Terms That Every eLearning Professional Should Know

When vetting the LMS vendors, it's wise to have a vocab cheat sheet at the ready in order to verify the software's UX value.

LMS User Experience And Usability: Main Differences To Consider

Let's take a closer look at the main differences between the LMS User Experience and usability, as well as where the UI ts into the big picture.

7 Insider Secrets To Find An LMS That Provides The Best LMS User Experience

One of the most difficult and time-consuming aspects of LMS implementation is actually finding a system that meets your needs.

9 Quintessential Traits Of A User-Friendly LMS

Discover 9 key traits that all user-friendly LMS platforms have in common.

LMS Net Promoter Score: 5 Tips To Use LMS User Reviews/Rating To Find The Ideal System

Learn how to use LMS reviews and ratings to find the "ideal" Learning Management System, as well as the importance of its LMS Net Promoter Score.

8 LMS Usability Related Issues A New System Can Help You Overcome

You don't need to add even more ambiguity to the equation by implementing an LMS that is overly complex and requires vast IT knowledge.

LMS Perceived Usefulness: 7 Ways The Right System Can Improve Work Performance And L&D ROI

LMS perceived usefulness pertains to the impact the system has on a team member's job performance or productivity.

8 Tips To Improve LMS User Experience For Your Online Learners

Improve your LMS User Experience and maximize online training benefits.

7 LMS Accessibility Issues That Prompt Organizations To Replace Their Current Systems

Discover 7 LMS accessibility issues that signal it's time to look for a replacement LMS.

7 Ways To Measure Your LMS Reliability To Check Whether It Fulfills Your Business Goals

Does your LMS fulfill your business goals? Learn how to measure your LMS reliability.

8 Tips To Use An LMS Online Directory To Choose A User-Friendly LMS For Your Organization

How to use an LMS online directory to select a user-friendly LMS that has all the features you need.

7 Ways To Evaluate The LMS User Interface During An LMS Demo Or Trial

Discover tips evaluate the LMS User Interface during your LMS demo and avoid buyer's regret.

The LMS Compatibility Conundrum: 7 Tips To Choose A User-Friendly LMS That Fits Into Your Current eLearning Toolbox

Find a new, user-friendly LMS that works seamlessly with what you already have.

Top 7 Functions Every Usable LMS Should Have

Discover few functions that are must-haves when you're thinking about LMS User Experience and overall usability.
---
Recommend this read to your friends and #shareknowledge!
Get your copy now
---
Join other professionals like you, who have downloaded the eBook!
In order to fill-in the form you need to have functionality cookies enabled.
You can adjust your cookie preferences
here.
Other resources by eLearning Industry