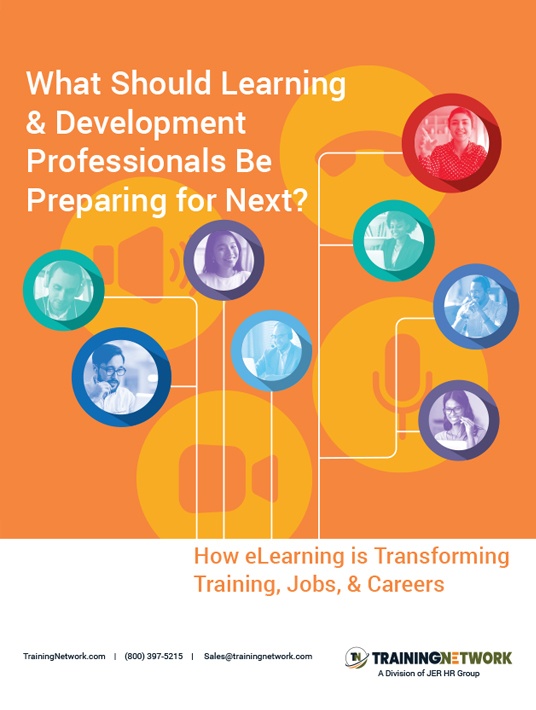 eBook
What Should Learning And Development Professionals Be Preparing For Next?
eBook
What Should Learning And Development Professionals Be Preparing For Next?
by Training Network / Published: Dec 03 2020
What it's about
For professionals charged with the learning and development of others, learning to surf the waves of change is a critical competency. Discover a pathway for leaders & learners to monitor trends & disruptions to leverage them for advantage.
Key chapters
How To Prepare For What's Next

With today's world packed with so many potential disruptions, L&D and training professionals need to designate periods to STOP: SCAN the organization & systems; TARGET the trends emerging and on the horizon; OPTIMIZE resources based on the trends most likely to have a critical impact; and PROCEED to execute on plans.

Scan The Organization & Systems

A re-imagined process encourages you to pay particular attention to how changes in environment, capacity, motivation and performance will impact the required competencies of existing and new staff, the skill sets available in talent pools, and desirable competencies on the horizon. By mapping out how four key areas may impact the organization the most, you can alter the design and deployment of L&D and training initiatives, focusing on the trends most relevant to the organization.

Target Trends

The VUCA model is used to categorize the trends and the way in which Volatility, Uncertainty, Complexity and Ambiguity may affect the organization.

Optimize Resources

Getting buy-in, understanding management concerns, and teaching others how to learn is critical. Given the pace of change, successful professionals need to focus on developing the ability to learn continuously. The new aptitudes require understanding how to determine learning need, to locate knowledge sources, and to evaluate content for accuracy and relevance.

Proceed With A Plan

Moving beyond the disappointment and fear of disruptive events and instead, looking for innovative solutions, is key to surviving both organizationally and individually. It often takes chaos to force organizations out-of-the-box into being innovative. By continually cultivating innovation, organizations, L&D and training professionals can develop the skills and plans to enable survival beyond such disruptions.
---
Recommend this read to your friends and #shareknowledge!
Get your copy now
---
Join other professionals like you, who have downloaded the eBook!
Other resources by Training Network