Understanding Learners' Expectations Is Half The Battle
If you want your L&D scheme to succeed, you absolutely need to understand your learners' expectations. You want to see your training program hit its goals. You want to know that your efforts are improving employee performance. You want to increase customer success and support, enhance the culture, and help reduce risks for the company. You want positive outcomes that align with and drive the goals of the business. That's a modern learning culture at its core! These are very worthy goals and now these outcomes can often be tracked and to some degree of accuracy, measured back to training programs. However, let's pause for a moment to acknowledge that doing so isn't easy.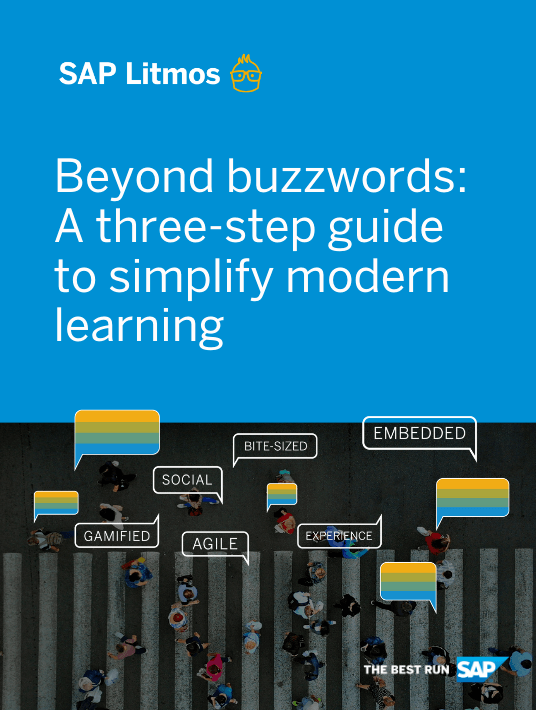 eBook Release
Beyond Buzzwords: A Three-Step Guide To Simplify Modern Learning
Grab this eBook for real-world advice on how to simplify learning to achieve the outcomes that matter.
Learners have evolved. Their expectations have changed—even in the last 5 or so years. For starters, they're actively seeking more learning. They expect to be able to "pull" it, meaning that they can access a wide range of courses on demand, rather than only doing required "push" courses. People want to design their own destiny and create custom learning paths that propel their careers and spark their interests.
In fact, ADP research shows that 65% of employees report wanting as much training as possible to help them achieve their career goals. Not only do they not see it as a burden, but today's workforce also places a great deal of value on learning. It's time to meet learners where they are and understand their expectations. This is a positive and exciting change, one that challenges L&D professionals to rise to the occasion and provide the education that modern learners want, in the ways that they want it.
Modern Learners Must Adapt And Learn New Skills Faster Than At Any Time In History
According to the U.S. Bureau of Labor Statistics, the average time in a single job is now only about 4 years. That number shrinks to about 2 years or less in the top 10 tech companies. People are reinventing themselves more frequently than generations before and, according to the statistics, they will have to do so many times in the course of their careers.
Plus, modern learners want to be untethered from the office and the desk. They want to train from any device at any time. This isn't new news, of course. We all know that it's a mobile-first, remote, globally dispersed world, and learners are demanding that training be available at their fingertips from anywhere.
Changing workforce demographics also add to the shape of the modern learning landscape. Research shows that millennials (anyone born between 1981 and 1996) will comprise 75% of the workforce by 2025 and this means developing training that appeals to and engages people who may have grown up with an IBM PC (1981) or the first Apple Macintosh (1984) in the house. They likely consumed a steady diet of Nintendo and MTV, too, which is why gamification and video should certainly be in your training playbook, if they're not already.
What Action To Take Now?
Your L&D job matters more than ever in driving the goals of the business. The next challenge in your effort to properly assess your learners and their expectations is to convey some of what you know to the rest of the organization. That's key to building a modern learning culture.
As part of doing this, you can work with team leads to set some baselines for what you plan to measure, whether it is team and/or individual performance goals and skillsets that support larger company goals. The reporting functions in your LMS will be your most valuable tool for measuring the outcomes that matter to your organization. Again, be sure to get key stakeholder buy-in on what you're tracking and why. A modern learning culture requires a new dedication to reporting and analysis.
4 Tips To Share The Value And Importance Of Training
Put your sales hat on to become the champion of your own programs. Commit to "selling" the value of training as a competitive advantage.
Meet with managers to discuss the importance of leading by example and buying into the training vision. Without their support, you're fighting an uphill battle.
Enlist leaders to get more involved in championing the learning culture and the budget it requires for success.
Promote the value to individual contributors and sell it up. A trickle-up approach can earn key advocates from within.
In Conclusion
Download the eBook Beyond Buzzwords: A Three-Step Guide To Simplify Modern Learning and learn more about how to properly assess your learners, understand their expectations, and create a unique, efficient, modern learning experience.