Learn Several Ways That Design Thinking Is Transforming The Learning Experience
While traditional Instructional Design models are analytical and based on systems thinking, the work of Learning and Development leaders is also highly innovative and creative. Course design needs to follow proven methodologies, yet learners want to be engaged and perhaps even inspired to learn. Can these two approaches meet and work together effectively? According to Synapse's eBook, LinkedIn's 2019 Learning Industry Report lists "meeting learners where they are" as one of the top priorities for training departments who want to create meaningful learning experiences for employees.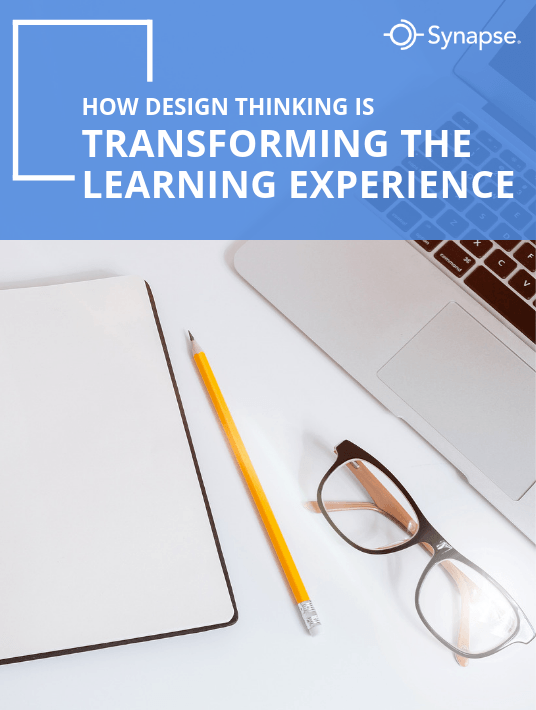 eBook Release
How Design Thinking Is Transforming The Learning Experience
Establish increased learner engagement and a more effective training program.
About The eBook
The eBook elaborates a lot on how Design Thinking is a process. A process in which we center around the user, challenge opinions and redefine obstacles in an attempt to recognize alternative procedures and solutions that might not be instantly apparent with our primary level of understanding. It's a way of thinking and working as well as a collection of hands-on methods. Simply put, Design Thinking consists of being empathetic and being iterative—two key traits needed in Learning and Development. Design Thinking is not a substitute for Instructional Design; rather, it can improve Instructional Design techniques. There are many ways to interpret Design Thinking. In the eBook, they discuss a model which consists of 5 phases or steps:

Step 1: Empathize
L&D managers often have to investigate and document the needs of the learners in their company in order to build powerful courses. However, the Empathize stage of Design Thinking is more than just investigating an audience's capabilities from a skills gap perspective. Today's Instructional Designers need to go further and get the feel of their learners. They need to place themselves in the shoes of the learner in order to fully understand their goals, challenges, and perspectives. Such understanding can have far-reaching effects on the course, such as level of language, choice of multimedia elements, style of assessments, and other aspects. The Empathize stage goes even further. There also needs to be empathy for your Subject Matter Experts (SMEs). Having a
deeper understanding of your SMEs can facilitate relationships, speed up the course development process and, ultimately, create better learning outcomes.
Step 2: Define
Without correctly defining a problem, it's nearly impossible to generate the necessary solution. Companies often favor to quantify a problem by the numbers, but Design Thinking also allows for the definition stage to include qualitative aspects as well. The more accurately you define the problem, the stronger your focus will be. According to the authors of the eBook, in the Define stage of Design Thinking, you may discover that training is not the solution at all; rather, a change in the process or systems is all that is needed in that department.
Step 3: Idea
The Ideate stage is a critical step in Design Thinking. Normally, this is carried out by teams from different departments or groups who create potential solutions to the problem identified in the Define stage of Design Thinking. Collaboration goes a long way here. All ideas should be examined and assessed. It's about leveraging the combined synergy of the group so creative solutions can be brought to the table for consideration. It's also important not to narrow down the ideas too quickly between the Ideate phase and the Prototype phase.
Step 4: Prototype
A prototype is an iterative process where the aim is to "fail" as quickly as possible, as each failure and adjustment brings you closer to the end design. Don't forget that a prototype is simply a rough draft or preliminary version of an approach that provides a way to rapidly try out ideas without a large investment of time and money. There should be a process in place to create, distribute, and engage with prototypes so that they can be accessed anywhere, anytime by teams and be scattered geographically. It often helps to seek a software solution that can auto-produce blueprints, storyboards, mockups, and prototypes for a seamless handoff to team members.
Step 5: Test
Design Thinking is an iterative process that involves testing and modification. This final part of the Design Thinking process is often highly tangled with the prototype phase. The Test phase is all about recognizing what works in the real world, accepting feedback, and refining prototypes or swapping them altogether. For this process to work they recommend that you test your solution with the target population through all of its repetitions. Furthermore, they suggest that the users find the experience for themselves in order to get unbiased feedback, so they can evaluate the experience rather than measure it against your explanation. It's also important to be clear on which variable is being put through its paces on each test. As the flow chart suggests, the Ideate, Prototype, and Test stages can form a virtuous cycle.
Looking Back On Design Thinking
Experience counts. Today's most successful L&D managers build courses with learning experience in mind. Design Thinking principles incorporate empathy and iteration into the Instructional Design process. Combined with the right technology solution, managers can deliver the most effective learning experiences possible by incorporating Design Thinking into training development.
Synapse is changing how Learning and Development departments scale their training programs. What you will learn from this eBook is that Synapse empowers organizations around the world to automate and streamline their training development processes. Their learning design systems enable learning teams and Subject Matter Experts to design, develop, and scale corporate training in a fraction of the time and at a fraction of the cost of typical processes and tools. Learn more than you could ever imagine by downloading the eBook How Design Thinking Is Transforming The Learning Experience.