How Can Nonprofit Organizations Help Volunteers?
Nonprofit organizations need an LMS to train volunteers. In the present times, their responsibilities have intensified because so many patients require help. Nonprofit organizations have to train volunteers to get the best results. On the other hand, they also have to show appreciation for the volunteers when they do something outstanding. Volunteers do a lot of hard work for the organizations and a little acknowledgment goes a long way in motivating them, especially during these harsh times when the COVID-19 virus is contagious. Hence, the most diligent volunteers should be given virtual certificates that they can show to others, or they can be given a round of applause during a virtual meeting.
Although the volunteers can't be treated the same way as before because social distancing is needed, efforts must still be made to commend them. They can be given gift vouchers for shopping and dinners, which would give them the time they need to spend with their families. In fact, volunteers are ready to offer help when a pharmacy or a healthcare professional places a request for help.
Research has proved that when volunteers are recognized for their work, their psychological health improves. The volunteers also need to be trained carefully and provided ample clarity about their roles. Volunteering is also useful for those who do it because it helps them develop a positive opinion about themselves. The volunteers develop a new sense of confidence after they have helped others tackle the disease.
Training is a requisite for volunteers because their tasks require some level of knowledge. Volunteers don't have prior experience in their jobs most of the time. Although volunteers might be eager to do their jobs, a lack of skills ensures that their performance does not lead to the desired results. So volunteers require training in soft skills, like dealing with people.
A nonprofit organization can use an LMS to provide training materials, including videos and web pages (hyperlinks), etc. For example, the Center for Disease Control has an excellent website that lets you know the symptoms of various diseases and what to do when someone has them. Apart from the pandemic, this organization monitors the existence of diseases such as AIDS in the U.S. (i.e. what proportion of the population suffers from which disease). Such data can also be provided to the volunteers.
What Makes Volunteers Quit?
The public needs to be told about the preventive measures they need to take against any disease, but people might have doubts about the precautions you are asking them to take. Hence the volunteers must be trained fully to answer any queries, using credible sources. When a volunteer joins an organization, they have a lot of idealism powered by the desire to help others. But they might feel they have joined the wrong organization that does not value them if they are not introduced to its goals and how their roles will contribute to these goals. When no explicit definition of these roles is given to them, they feel dissatisfied and lost. They also need to know how an organization will support them in performing their roles.
How To Design The Content Of A Nonprofit LMS
1. Know The Learning Gaps
The training period for volunteers must be brief because they can't be taken away from their jobs. Hence the information designed for a nonprofit LMS must be succinct and relevant. Volunteers can't be given information not required for their tasks. An organization must know the learning gaps of volunteers before preparing their training content. Volunteers have to be trained in many matters regarding conversations with the public. For example, how to handle all the paperwork and make sure documents are uploaded on time.
2. Tell The Public About The Mission Of The Organization And Help Them
The main duty of the volunteers is to ensure that the public believes in the mission of the organization and attends its online/offline seminars. Nonprofit organizations registered with the CDC make sure that the spread of the pandemic is prevented, so they help arrange over-the-counter tests for the public by visiting their homes. They also assign a person to make sure that when the organization gets a call for dealing with a problem related to COVID-19, the issue is resolved on time. The clients of such organizations can also be taught to wear masks to safeguard themselves against the virus. A nonprofit LMS contains such information. In fact, effective measures have to be taught to the volunteers on how to deliver food safely to the elderly without coming into contact with them.
Implementing a nonprofit LMS is also beneficial for the organization because it can gather data about the patients who are affected. It can assign a hotline where those suffering from the symptoms of any disease can get help. With proper training, a crisis counselor can work with a nonprofit organization right from their home and assist patients by answering their calls.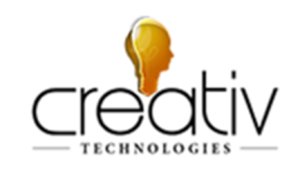 Creativ Technologies
We provide niche elearning solutions to corporate clients. Our company also provides LMS administration services. We are experts in Blended Learning, Mobile Learning and Web Based Training